Here are the 6 Best 300 Blackout AR uppers you can buy for full 16" length, SBRs or pistol builds. These options are picked based on community recommendations and research we have done.
Since the only difference is the barrel, users can slap any 300 BLK upper onto any mil spec AR lower and you're good to go. (SBR lowers require NFA filing)
Disclosure: All products have affiliate links for earning commission to support the website when you purchase
BCM (Bravo Company USA) Makes many top of the line AR15 parts including a complete 9" 300 blackout upper receiver. The 9" barrel length is the most optimal for 300 blackout cartridge and suppressed performance.
The muzzle comes with BCM's finest 7.62 MOD 1 compensator for recoil reduction, and the handguard system is BCM's tried and true MCMR 8" MLOK. There is no sharp handguard cap shoulder to improve barrel harmonics and accuracy.
The continuous taper barrel profile is optimal for weight balance and performance.
One of the best thing about this handguard system is that it prevents rotation on the receiver.
9" barrel
1/7 twist
Chrome Lined / 11595E Steel
MCMR8 MLOK Handguard
Black Anodized
Standard A2 receiver
For MK18 build fans, here is the Daniel Defense 300s complete upper receiver with direct gas impingement system. The package comes with a complete 300 blackout bolt carrier group, and it's ready to go out of the box to convert AR15 to 300 Blackout
Shoot subsonic and supersonic target or defensive rounds without any issue with this 10.3" barrel.
10.3" Strength-to-Weight (S2W) government profile barrel
1/8 twist
Chrome Lined / 17-4 PH stainless steel
DDM4 MLOK Handguard
Black Anodized
Standard A2 receiver
Palmetto State Armory has a whole line of 300 AAC Blackout uppers at a great price point all under $400.
The upper receiver is 7075 T6 forged aluminum with Mil-Specs coating. Among all PSA's 300 BLK options, The 10.5" version is the best, and it comes with a Mil-Spec bolt carrier group that is parkerized and the gas key is staked to ensure field grade durability.
10.5"
1/8 twist
Not chrome lined / Chrome Moly Vanadium
Black Anodized
A2 flash hider
M4 Feed Ramp
Standard A2 receiver
Lightweight MLOK 9" free float rail
What makes this one different?
The Bear Creek Arsenal 300 Blackout AR upper allows the user to add a side charging handle on the bolt for better manual of arms ergonomics. It's just slightly different than other AR15s with top charging handle.
The upper receiver comes without forward assist, and the bolt carrier group is proprietary. The overall system is great for supersonic and subsonic ammo shooting.
Available for various length:
16", 7.5" & 10.5" parkerized barrels
Black Andoized
Right handed side charging receiver Gen 2
7075 charging handle for increased durability
MLOK handguard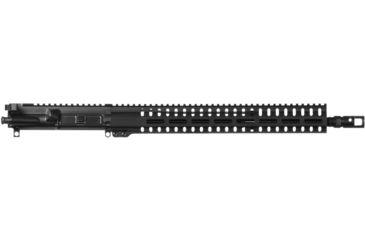 Aero Precision's popular M4E1 upper receiver with 300 blackout barrel is the best value. The Quantum MLOK handguard system locks onto the receiver with anti rotational tabs to prevent any shift.
For anyone building a brand new 300 blackout upper without wanting to spend too much money, this is the one to buy.
10"
1/7 twist
Standard A2 birdcage flashhider
4150 Chome Moly Vanadium
Black Anodized
Free Float Quantum M-LOK Handguard
TRYBE Defense is another company that makes budget level 300 blackout AR15 uppers. This complete upper costs less than $300 without charging handle or bolt. If you are already have a ton of spare parts laying around to complete the upper, then this 300 Blackout upper is a steal.
The handguard isn't the best in the world, but it saves you a lot of money, and they can be upgraded just like any other AR15s.
For non SBR or AR pistol builders, this is a great option to buy.
---
Common FAQ
Does a 300 Blackout Upper Use The Same Bolt As 5.56 NATO?
A 300 blackout AR15 upper uses the same bolt carrier group as the one used with 5.56, No extractor change is required either.
Learn more about 300 BLK vs 5.56 here
Can I Put A Short Barrel 300 Blackout Upper On Existing Short Barrel Rifle?
Yes, Changing your SBR upper with a different caliber than the registered lower is possible.
Add additional calibers and barrel length configurations on ATF Form 1 (5320.1) box 4e and 4f.
If you want to skip the headache with NFA, you can always build a 300 blackout pistol with a stabilizing brace.
What's The Optimal Barrel Length For 300 Blackout?
9" or 10" barrel are generally the most optimal barrel length for 300 blackout for users at any level.
To be more technical, a 1:8 twist is the best shooting light-weight supersonic rounds. For those with suppressors, the 1:7 twist favors the heavier subsonic rounds.
For in-depth 300 blackout ballistics studies, please check out this guide on our site about this topic


As the content creator of badassoptic.com, My background in the firearms industry and shooting sports gives me the experience to recommend tried and true products and keep away subpar ones.