In this buyer's guide, let's take a look at the best lightweight AR15 handguards for carbine & CQB length rifles that are rock solid, features anti-rotation tab, clearance for suppressor, and can accept different mounts.
Let's take a look...
Disclosure: All products have affiliate links for earning commission to support the website when you purchase
Best Lightweight AR15 Handguards
Also check out: 11 Must Have AR15 Accessory Upgrades
BCM KMR Handguard - Best Overall
The BCM KMR KeyMod free float rail handguard stands out for its simplicity, sleek design, durability, and lightweight construction. What truly sets it apart is its exclusive cross-bolt locking mounting system, recognized as the industry's finest, which effectively eliminates any movement or rotation of the rail caused by heat or repeated recoil.
Crafted from aerospace-grade CNC aluminum and treated with a hard coat anodize finish to combat corrosion and reduce reflections, this rail is engineered for durability.
It's important to note that this rail is compatible with KeyMod mounting accessories only, offering a significant amount of rail space for various tactical attachments, including 45-degree mounting options.
Among all the available rail choices, the BCM KMR stands out as the lightest and most user-friendly option on the market.
Faxon Streamline Carbon Fiber Handguard - Lightest
Carbon fiber handguards offer exceptional strength, approximately 10 times stronger than aluminum, and are significantly lighter, weighing about 40% less.
Their primary purpose is to reduce overall weight, and the Faxon carbon fiber rail excels in this regard, weighing just 6.24 ounces for a 10.2" rail – making it the lightest option when compared to an aluminum rail.
The rail includes MLOK slots for attaching tactical accessories, and it's constructed to be robust without compromising rigidity or strength.
For competitive shooters, this rail significantly lightens the front end of an AR rifle, greatly enhancing speed and maneuverability.
If you're seeking the ultimate lightweight option, the Faxon Streamline Carbon rail is the top choice.
Midwest Industries Night Fighter - Best Value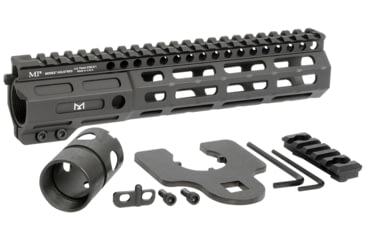 The Midwest Industries Night Fighter rail offers a high-quality, one-piece free float AR rail option without straining your budget.
Similar to other available rails, you can choose from different lengths with either KeyMod or MLOK attachments, and it features QD swivel sockets for sling attachment.
What sets this rail apart is the innovative anti-rotation tab that securely fastens to the receiver, and the lower anti-rotation key that locks into the barrel nut. This design is a significant improvement over their previous product and makes this handguard a worthwhile option to explore.
This rail is highly recommended for new AR builders.
Geissele MK16 Rail -
Ultimate Durability
The Geissele MK16 rail represents the perfect blend of the lightest and strongest options within Geissele's Super Modular Rails, developed for the US Army Special Operations Command (USASOC).
This new handguard continues to utilize the trusted barrel nut locking design, ensuring utmost rigidity even in the most extreme usage conditions.
What's noteworthy about the MK16 MLOK rail is its dual anti-rotation locking mechanisms, which have been significantly reinforced to meet the demands of the US SOPMOD program. One mechanism secures the upper receiver, while the other two set screws anchor the lower part of the receiver, guaranteeing that the rail remains stable and doesn't shift forward or rotate during combat scenarios.
*It may not fit some billet upper receiver.
Cloud Defensive COR Rail - Best Ergonomics
The Cloud Defensive COR rail is purpose-built to offer a distinctive low-profile solution for mounting pressure switches on AR rifles equipped with tactical flashlights.
One standout feature is the pressure switch's placement, which sits low on the handguard without protruding significantly. This design accommodates products like the Cloud Defensive OWL, LCS, Surefire, and Streamlight pressure switches, all of which can be mounted directly into the provided cutout.
Another notable aspect is the BCM KMR-like cross-bolt mounting system, which effectively prevents the rail from shifting due to recoil and heat. Importantly, no barrel nut timing is required for this secure attachment.
The CD COR rail comes in two versions, CORv1 and CORv2, with the only difference being the locations of the cutouts—one is positioned farther forward, while the other is placed farther back.
For anyone who wants a much lower profile and much tighter handguard setup with IR and lights on their SBRs, the COR rail provides a lot of tactical benefits that you don't wanna miss.
---
AR15 Handguard Buying Guide FAQ
When buying a modern AR15 handguard, you should be looking for the following:
Free float - For better accuracy
Anti rotational design - Prevents handguard shifting & rotating
Configurable (MLOK, KeyMod) - Pick one you like
Appropriate rail length - More rail space for accessories (For suppressor buyers or existing owners, be sure to if there is room clearance to mount it)
Barrel nut length - Longer length provides stiffer leverage
Integrated QD points (optional) - For sling attachment
Common Rail Accessories To Get
Modular handguard rail provides the shooter the ability to mount tactical accessories such as:
Section Rail
IR laser/light
Sling attachment points
Foregrip
Thermal attachment
Depend on which accessories you already have, or plan on acquiring.
Some have different mounting mechanism of the following 3 popular options:
MLOK
M1913 Pictainny
KeyMod
We highly recommend sticking with one type of mounting system, so you don't have to spend extra money buying mounts.
What Is Anti Rotation Tab?
An anti-rotation tab is a feature designed to prevent unwanted movement or rotation of a handguard on a firearm.
Have you ever encountered a handguard that became loose and started to twist or rotate on its own?
This issue can be addressed by using a handguard equipped with a reliable anti-rotation tab or anti-rotational set screws. The purpose of the anti-rotation tab is to securely grip both sides of the upper receiver, effectively preventing the rail from shifting or rotating as a result of recoil or accidental drops.
What Rail Length Is The Best?
The most common handguard rail length are:
The best handguard rail length is relative what works for you. These things include:
Aesthetics
Rail real estate
Room clearance for mounting a suppressor (You might already own or want to get)
There are so many different builds out there, and it's very difficult to say one is better than the others.
For the most part, a longer rail is always better for the following reasons:
More room to mount accessories
Shooters can extend grip spot more forward
Extra handguard length protects the front of the barrel
Keeps hot barrel from touching the user while resting on the sling
---