Here are 5 best AR15 muzzle brake and compensator upgrades your rifle needs to either reduce muzzle flash and muzzle movement, or mount a suppressor. Here are our recommendations:
Best AR 15 Muzzle Devices
Disclosure: All products have affiliate links for earning commission to support the website when you purchase
SureFire's SFMB muzzle brake suppressor adapters use Surefire's proprietary Impulse Diffusion design to minimize side muzzle blast and rear-directed concussion effects and greatly reduce recoil impulse and muzzle rise on AR15, so your weapon tracks straight back, keeping accurate shots with faster shot-to-shot recovery.
QD Suppressor Mount Muzzle Brake - This muzzle brake is heat-treated from high quality stainless steel bar stock and DLC-coat them for extreme durability. They are available for a variety of weapon calibers and muzzle thread specs and every SFMB serves as a rock-solid mounting adapter for SureFire's combat-proven SOCOM Series Fast-Attach suppressors.
Blast Regulator Compatible - The muzzle brake effect can be minimized using the Surefire Blast Regulator in places like indoor range to reduce recoil and side blast concussion
Timing Required - The SFMB design incorporates multiple bearing surfaces to ensure superior suppressor alignment. We also included blind pilot holes at the 3 o'clock and 9 o'clock positions to enable fine-tuning of recoil characteristics for individual shooting styles or ammunition characteristics.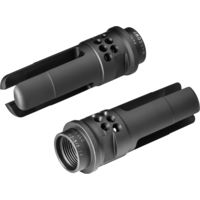 The SureFire's WARCOMP flash suppression adapter is one of the best hybrid muzzle devices that can kill flash and reduce muzzle flip
It works really well to get rid of muzzle flash and stabilize reticle movement for fast follow up shots. It's also made from strong stainless steel and has special threading to make sure they fit properly. These type of AR 15 muzzle devices have a special coating that helps them work well in any type of weather and makes them easy to clean.
Hides Flash While Compensates - The device reduces the bright flash like the 3 prong BE Meyer flash hider and the user can custom mount the direction of the gas ports to favor the shooter's natural rifle handling.
Mitigate Muzzle Rise - The user can time the ports with directional muzzle blast control
Suppressor Ready - Mount compatible Surefire suppressor
Installation wrench tool included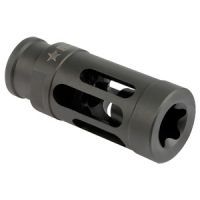 The BCM Comp Mod 1 is one of the best muzzle brakes for AR 15 pistols and rifles.
The BCM MOD 1 compensator is a muzzle device designed and manufactured by Bravo Company Manufacturing (BCM). It is primarily used in firearms to mitigate recoil and muzzle rise, improving overall control and accuracy during rapid fire.
The MOD 1 compensator features a two-piece design with a primary baffle and a secondary baffle. The primary baffle redirects gas and forces it to the sides, which helps counteract muzzle rise by pushing the firearm's muzzle down. This feature is particularly beneficial for semi-automatic and automatic weapons as it aids in maintaining target acquisition and follow-up shots.
The secondary baffle serves the purpose of reducing felt recoil by redirecting gases to the sides and slightly forward. This design element helps minimize the backward force experienced by the shooter, resulting in improved control and faster target reacquisition.
Reduces Noise and Muzzle Movement - The muzzle brake has tuned slots and an interior cone that'll give the shooter the best recoil mitigation and muzzle climb reduction
Weatherproof - The BCM muzzle brake has been designed it to reduce side blasts and noise more than the typical compensators on the market.
Weatherproof - The muzzle brake is treated it with nitride for maximum corrosion resistance in the field dealing with mud, rain, and snow.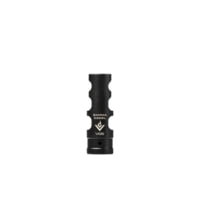 The VG6 GAMMA 556 is in a league of its own when it comes to eliminating recoil. They used the latest and greatest engineering techniques involving computational fluid dynamics to make this 6 ports muzzle device for optimal performance.
We optimized the GAMMA 556 to work efficiently with the gas from the muzzle on barrels between 10.5-18.5 inches. It's the perfect addition to almost any AR15 builds.
The GAMMA 556 is a hybrid of a muzzle brake and compensator to virtually eliminate recoil and muzzle movement while you're firing without costing as much as a Surefire muzzle brake.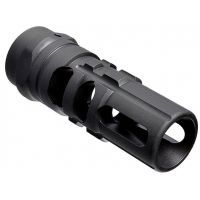 The SI JCOMP Gen2 is a unique AR15 muzzle recoil reduction device that we don't see quite often. This is a classic Type 89 compensator and gave it a 21st century overhaul to work with the AR15 platform.
The J-COMP concept comes from the Type 89 Japanese assault rifle used by the Japan Self-Defense Forces, the Japan Coast Guard's Special Security Team units, and the Special Assault Team.
The J Comp now features increased compensation for muzzle rise, and it's available in 7.62x39mm and .308/7.62x51mm. It's also compatible with the Oppressor and FerFrans concussion reduction devices.
---
Recommended tools to install muzzle brake
To install a muzzle brake a AR15 wrench is required. We recommend using a Midwest Industries Reaction Rod to hold the receiver tight to prevent torque damage to the barrel index post.
As the content creator of badassoptic.com, My background in the firearms industry and shooting sports gives me the experience to recommend tried and true products and keep away subpar ones.