3 Best AR15 Charging Handle Upgrades [Nothing Fancy, They Just Work]
There are tons of AR accessories on the market, and if you want the 3 best AR15 charging handle upgrades, here are the top 3 that work with direct impingement system ARs.
Let's check them out:
Disclosure: All products have affiliate links for earning commission to support the website when you purchase
Radian Raptor Ambi Charging Handle - Best Overall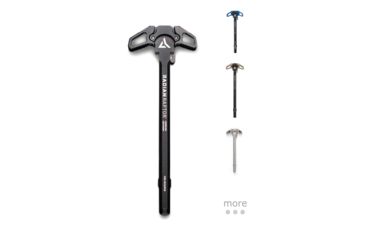 The Radian Raptor is by far the best AR15 charging handle upgrade on the market. It looks slick, feels solid, and works for left and right-handed shooters.
Fluid And Fast - Smooth BCG pulling motion from strong or support side. Even better when using a slick surfaced nickel boron BCG
7075 T6 Construction - Stronger than 6061 T6 aluminum, and it can withstand high volume BCG charging cycles
Various Color Offerings - Available for:
Red
Black
Clear Anodized
FDE
Radian Brown, Grey, OD
Tungsten Grey
Suppressor Optimized (RAPTOR SD) - Ported shaft can redirect hot gas down and forward away from the shooter's face when the weapon is suppressed.
BCM Gunfighter Large MOD 3B - Best Value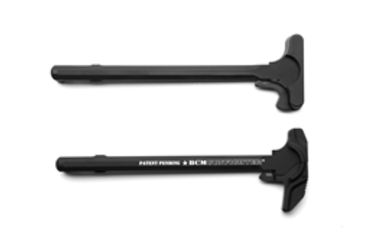 The BCM Gunfighter charging handle looks like a standard charging handle but it's much stronger with structural improvements. This is a great MADE IN USA upgrade piece for any AR15 rifle.
Increased Durability - 7075 T6 forged aluminum construction just like the Radian Raptor
Large Latch - Extends 1.14" past the main body and should give (Wearing gloves) finger clearance to any scope or offset rear iron sight that gets in the way
Better Leverage - Clear jams and other BCG problems with much better latch gripping leverage
Best Bang For Your Buck - Just under $60, it's one of the best you can get
Precision Reflex (PRi) M84 Gas Buster - Best For Suppressor Use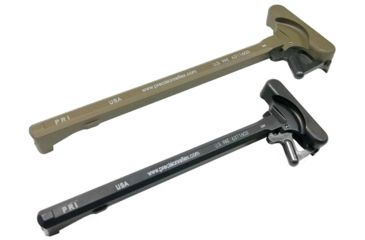 This is the best charging handle for suppressed ar users. It's also approved for USMC & many Spec Ops units.
It looks just like any other charging handles on the surface, but it's designed to divert hot gas blowback away from the shooter's eye when using a suppressor can, which means no more burn in the eye.
Clone SOPMOD - Use this to clone an MK12 or SOPMOD rifle even if you don't use a suppressor
Gas Directed To The Right - Thicker charging handle structure to block hot gas from hitting the shooter's face (right-handed shooter)
Upgradable Steel Latch - Change to an oversized latch if needed for better grip and malfunction clearing (Try Combat Latch)
However, this is not a product for a left-handed shooter