3 Best 224 Valkyrie Upper Receivers For AR15
Here are the 3 best 224 Valkyrie upper receivers you can buy stock today.
Just put it it onto any AR15 lower with a 6.8 SPC magazine, and you're good to shoot long range and hunting with much more bullet velocity and range capability than the 5.56mm
Check it out below:
Disclosure: All products have affiliate links for earning commission to support the website when you purchase
Palmetto State Armory is a "citizen-first" for the people firearm manufacturers making government contracting quality AR15 parts at a fraction of the cost.
This is their in house complete 224 Valkyrie upper receiver with a 20" barrel with a rifle length gas system.
The upper comes with:
416R 20" 224 Valkyrie barrel (1/6.5" twist rate)
Forged 7075 T6 upper receiver
PSA 15" MLOK handguard
Full auto rated 6.8 SPC bolt head + bolt carrier group
Low profile adjustable gas block
A2 flash hider
Standard AR15 charging handle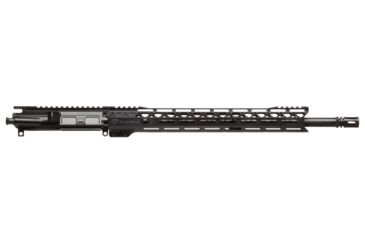 This 224 Valkyrie upper comes with the following components:
18" HBAR profile barrel with 1:7" twist
Anodized 7075 T6 upper receiver
15" M LOK handguard
A2 flash hider
224 Valkyrie BCG
The Bear Creek Arsenal BC15 upper features a 20" 416R SS Heavy Weight Barrel chambered in 224 Valkyrie right out of the box.
The upper comes with the following:
20" 416R SS heavy weight barrel with 1:7" twist rate
15" MLOK handguard
Rifle length gas system
A2 flash hider
Standard AR15 charging handle
---
Common FAQ
What Type Of Bolt Does 224 Valkyrie AR15 Use?
The 224 Valkyrie AR15 uses a 6.8 SPC bolt inside a standard AR15 upper receiver. The 224 Valkyrie is a necked down version of the 6.8 SPC round. So the bullet casing is the same, but a different chamber dimension.
Does A 224 Valkyrie AR Uses The Standard 5.56mm Magazine?
No.
A 224 Valkyrie AR15 uses the 6.8 SPC magazine to feed the round. (6.8 SPC AR15 magazine works with all AR15 lowers)
Get them on Brownells
How To Build A 224 Valkyrie AR15 From Scratch?
Builders can put together a 224 Valkyrie AR15 upper starting with a standard mil-spec AR15 stripped receiver.
The only things different are the 6.8 SPC bolt, 224 Valkyrie chambered barrel and 6.8 SPC AR magazine.
The lower receiver is the same standard AR15, same trigger, same buffer system, everything is the same.
Get a lower parts kit here
Get a lower receiver here