4 Best LEP Flashlights 2022 [For Firearms Use]
LEP technology provides insane PID capabilities for long guns and pistols.
Here are the 4 best LEP flashlights in 2022. We have narrowed based on their overall performance, capability, sizes and cost.
Check them out below:
Our Top LEP Flashlight Choices
Disclosure: All products have affiliate links for earning commission to support the website when you purchase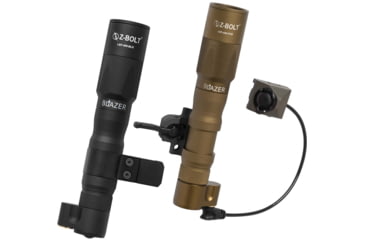 Why Z Bolt Blazer? - This 1200 meter beam distance LEP light head works with any existing Surefire M600DF or ModLite Bodies (18350, 18650 or CR123A battery). If you want more throw without having to completely change out your current Scout light configuration, the Z Bolt Blazer is the solution.
Simple Swap - Just swap out the head and you're ready to go. Yes! it works on ModLite PL350 (see specs below)
Complete Package Available - Buy the whole light
Insane Throw Performance - See as far as 1200 meters to PID and do some long range precision shooting at night (Up to 315000 candela output)
Heat Protected - Superior beam performance without lowering the beam intensity
Different Beam Colors - Use different lens filter
Same Scout Light Configurations - Keep existing scout light configurations, remote switches and light mounts all the same
Features:
1000 Lumens
315000 Candela
Works with Surefire M600DF, MODLITE bodies

Why The Odin Turbo is so useful? - The new 2022 Olight Odin Turbo is based on the same design as the original Olight Odin full size light. Now this is an evolved design to have extremely long range beam distance for PID.
Same Surefire Footprint - Use any existing Scout light mounts you have for KeyMod, Picatinny or M-LOK flashlight mount.
Handheld Usage - Use as an handheld EDC light and just detach it from the QD mount
Improved Pressure Switch - All new Odin products come with the new lockable Pressure Switch tail cap and remote switch pad
USB Rechargeable - Charge this thing on the go with a USB battery bank
Why Try The Valkyrie Turbo? - The new 2022 Olight Valkyrie Turbo is an impressive thrower for long range illuminations in the dark. It's a LEP (Laser Excited Phosphor) laser alike white beam with a PID range up to 500 to 540 meters.
Up To 70K Candela - It's like having a rifle light on a pistol like the MODLITE OKW
Way Better PID - See clearly in the dark as far as 500 meters with a very tight hot spot
Auto Heat Protection - Lumen intensity will drop from 250 lumens after 4 mins, then transition into 50 lumens for 180 mins
Same Controls - It functions just like Olight PL Pro. It features light only and strobe
Features:
250 Lumens
70225 Candela
2 CR123A Batteries
4.7 oz
3.55 in
IPX6
Read Detailed Review: Olight Valkyrie Turbo Review
Why Use The MODLITE PL350? - PL350 is mostly a LED light, but Z Bolt Blazer LEP light head can go on here
It's like adding rifle light throw capability on a pistol.
Swap Heads - Change beam pattern based on situational needs without light body removal
More Throw Than OKW - OKW's 69,000 candela is good up to 150 yards, but the Z BOLT's 31500 candela can PID targets at 500 yards at night
Very Positive Control - Very positive & easy to toggle control switches even when wearing gloves (PHLSTER ARC enhanced WML Switches included)
Features:
1500 Lumens (PLH 5K)
29000 Candela (PLH 5K)
54000 Candela (PLHv2)
315000 Candela (Z Bolt LEP head)
1 18350 Battery
5.5 oz
4 in
Read Detailed Review: MODLITE PL350 Review
As the content creator of badassoptic.com, My background in the firearms industry and shooting sports gives me the experience to recommend tried and true products and keep away subpar ones.