Whether you have the original VP9 or the optic ready VP9
In this guide, we gonna show you 4 best red dot sights for HK VP9 based on field of view, features, reticle, durability and money of value.
There are tons of option, and let's see what's new for 2021:
3 Best Red Dot Sights For HK VP9
Why this is the go-to optic - Trijicon RMR is the gold standard for micro pistol reflex sights. It performs great and looks great on the HK VP9
Improved Accuracy - Clean 3.25 MOA red dot works for shooters with astigmatism with a better sight picture clarity
Built For Handgun - The RMR Type 2 is specifically built to handle handgun slide G force. The new battery compartment grips the battery tighter to prevent loose contact
Slide Racking Assist - Racking the slide one handed effortlessly by pressing the optic against hard surfaces. Also use it as a slide charging stop!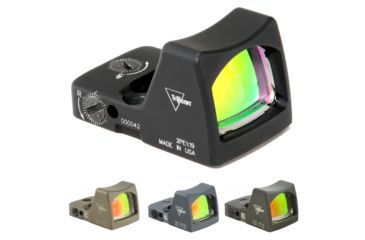 ---
Why People Love This Sight - The Holosun 507C is by far the best Trijicon RMR alternative for the performance and price. Use it on the HK VP9 and other firearm types.
Same RMR Mounting Footprint - It shares the same mounting footprint as the RMR, so no need to buy a special mounts
Side Battery Access - Access the battery from the side. No sight removal is required nor re-zeroing
Multi-Reticle System - Cycle through the following reticle options for various applications:
2 MOA Center dot
32 MOA circle
32 MOA circle + 2 MOA Dot
*Change by pressing the minus button for 3 seconds.
The 32 MOA circle helps significantly for picking up the sight faster because it's big and easier to see.
Conceal Carry Ready - Saves the last reticle brightness setting to prevent accidental button press
Superior Durability - Forged 7075 T6 aluminum housing unit protects the internal component to retain zero from sharp recoil impulses and rough handling.
---
Why we pick this one - The Vortex Venom is a fairly large FOV sight without breaking the bank for just under $250.
Great Beginner Optic - Fast target acquisition along with the bright fiber optic front sight that makes shooting the 9mm an amazing experience for beginners.
Wide field of view - Get on target fast by looking through a big window for tracking the reticle better and not get lost.
Top-Loading Battery Access - Swap the battery right from the top similar to the Burris FastFire 3 without removing the whole sight or having to re-zero the sight
If you're not sure between their 3 MOA or 6 MOA, please check out this 3 VS 6 MOA reticle guide to help you make a educated decision
---
FAQ
Best VP9 Slide Milling Services
Here are our recommended VP9 slide milling services to send in your slide if your VP9 isn't optic ready: