Whether you have the original VP9 or the optic ready VP9
Here are 4 best red dot sights for HK VP9 that will change your aiming performance. I arranged these products based on field of view, features, reticle, durability and money of value.
There are tons of option, and let's see what's new:
4 Best Red Dot Sights For HK VP9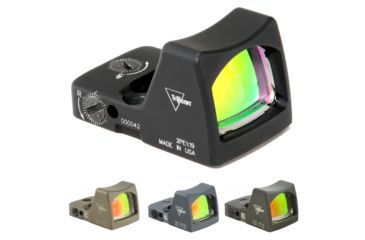 The Trijicon RMR is the gold standard for micro pistol reflex sights and is the go-to optic for the HK VP9. It offers exceptional performance and aesthetic appeal.
Improved Accuracy - A clean 3.25 MOA red dot works for shooters with astigmatism with a better sight picture clarity
Built For Handgun - The RMR Type 2 is built to withstand the G-force generated by handgun slides. Its redesigned battery compartment ensures a secure connection.
Slide Racking Assist - Effortlessly rack the slide with one hand by pressing the optic against hard surfaces, and use it as a slide charging stop.
Magnification: 1X
Objective Lens: 0.9" x 0.6"
Eye Relief: Unlimited
Reticle Type: 6.5 MOA dot
Turret : 1 MOA / Click
Length: 1.8 inches
Weight: 1.2 oz
Battery: CR2032
Battery Life: 4 years
---
The Trijicon SRO has the same body as the original Trijicon RMR, but it features a large circular window for faster target acquisition. It's a great optic for any competition model HK VP9 for range use.
Bigger Window - Acquire the dot fast and consistent even if you're slightly off center. Spend no time looking for the reticle or get lost in the window during follow up shots.
Easier Battery Access - Load/Replace battery right from the top! No sight removal or re-zero required
Faster Follow Up - Reacquire dot faster even if the shooter lost the dot inside the window.
Same RMR mounting footprint - Mount on optic ready VP9 slide
Features:
Magnification: 1X
Reticle: 5 MOA option is the best
Turret Value: 1 MOA / Click
Field of View: Round 0.98" X 0.89"
Construction: 7075 T6 aluminum
Dimension: 2.2"X1.3"X1.4"
Weight: 1.6 oz
Battery Life: 3 - 4 years
The Holosun 507C X2 is the top Trijicon RMR alternative, offering outstanding performance and value for the HK VP9 and other firearms.
Same RMR Mounting Footprint - No need for special mounts, as it shares the same mounting footprint as the RMR.
Side Battery Access - Side battery access eliminates the need for sight removal or re-zeroing.
Multi-Reticle System - Choose from a 2 MOA center dot, 32 MOA circle, or a combination of both for versatile applications. Easily switch between them by pressing the minus button for 3 seconds.
The 32 MOA circle helps significantly for picking up the sight faster because it's big and easier to see.
Conceal Carry Ready - Retains the last reticle brightness setting to prevent accidental button presses.
Superior Durability - The forged 7075 T6 aluminum housing protects internal components, ensuring zero retention even with sharp recoil impulses and rough handling.
Features:
Magnification: 1X
Reticle: 2 MOA, 32 MOA ring, or combined
Turret Value: 1 MOA / Click
Field of View: 0.63" X 0.91"
Construction: 7075 T6 aluminum IP67 rated
Dimension: 1.78"X1.15"X1.15"
Weight: 1.5 oz
Battery Life: 3 - 4 years
---
The Vortex Venom offers a large field of view without breaking the bank, making it an excellent range optic choice for those seeking value.
Great Beginner Optic - The Venom provides fast target acquisition and pairs well with a bright fiber optic front sight, making it perfect for new 9mm shooters.
Wide field of view - Get on target fast by looking through a big window for tracking the reticle better and not get lost.
Top-Loading Battery Access - Similar to the Burris FastFire 3, the Venom allows for easy battery replacement without sight removal or re-zeroing.
If you're not sure between their 3 MOA or 6 MOA, please check out this 3 VS 6 MOA reticle guide to help you make a educated decision
Features:
Magnification: 1X
Window Size: 0.58" x 0.77"
Eye Relief: Unlimited
Reticle Type: 3 or 6 MOA
Turret : 1 MOA / Click
Dimension: 1.6" X 0.98" X 0.95"
Weight: 1.0 oz
Battery: CR2032
Battery Life: 3000 hours
---
Other Recommended Accessories
Buy an optic ready VP9 long slide:
As the content creator of badassoptic.com, My background in the firearms industry and shooting sports gives me the experience to recommend tried and true products and keep away subpar ones.