In this buyer's guide, let's take a look at the best scopes for 243 for hunting and plinking.
We have sent people to test these and here is what you can expect when you pick up one of them
Disclosure: All products have affiliate links for earning commission to support the website when you purchase
This is a solid one-piece constructed scope that is indestructible and resistant to heavy recoil. The Argon purging process ensures the scope is water and fog proof for a 243 rifle for hunting and plinking.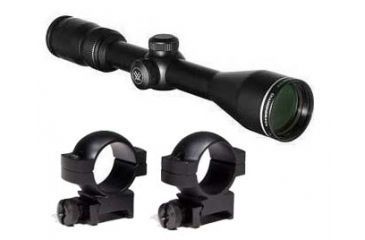 Magnification: 3-9X
Objective Lens: 40mm
Focal Plane: 1st Focal Point
Exit Pupil: 1.9 - 8mm
Eye Relief: 3.3 - 3.5 in
Overall Length; 11.61 inches
Weight: 14.4 ounces
Tube Size: 1" tube
MOA Adjustment Range: 0.25 MOA / Click
Shockproof - Rugged construction withstands recoil and impact.
Great Light Transmission - Large 50mm objective lens transmits as much light through the scope under low lighting condition so the shooter can clearly identify targets
Added Fast Focus Eyepiece - The shooter can quickly and easily adjust reticle focus to work with their eyesight
Capped Turret - It avoids accidental movement of the turrets when moving through the bushes during hunting. It also features quick return to zero after sighting in the riflescope.
Great hunting reticle - The Dead-Hold BDC reticle is the single best all-purpose hunting reticle intended for a wide range of hunting and long range applications.
This is similar to the Vortex above, but with 3X more magnification power at a great price point
Magnification: 4-12X
Objective Lens: 40mm
Focal Plane: 1st Focal Point
Exit Pupil: 1.9 - 8mm
Eye Relief: 4.2 - 3.7 in 12X / 5.2 - 3.8 at 4X
Overall Length; 12.4 inches
Weight: 13.1 ounces
Tube Size: 1" tube
MOA Adjustment Range: 0.25 MOA / Click
Mid Range Scope - 4X for mid range and 12X for better long range target identification
Custom Dial System - Leupold's Custom Dial System (CDS) allows simple target ranging, then just turn the dial to that number, and aim dead on.
Zero Stop - Quickly return to zero after wind correction without getting lost in the turret turns
Scratch Resistant Lenses - Hardened surface coatings just like all other scopes listed in this guide to last long
This is an American made scope with great usage beyond just a 243 rifle. The superior edge to edge clarity glass is exactly what a hunter needs under extreme low-light condition.
Magnification: 5-25X
Objective Lens: 56mm
Focal Plane: 1st Focal Point
Exit Pupil: 1.9 - 8mm
Eye Relief: 3.6 - 3.8 in
Overall Length; 15.7 inches
Weight: 33 ounces
Tube Size: 35mm main tube
MOA Adjustment Range: 0.25 MOA / Click
First Focal Point - Reticle scales accurately relative to all magnification levels
35mm tube for more click adjustments - This first focal plane scope is built for long-range shooting for more turret adjustments up to 100 MOA clicks for elevation and 50 MOA clicks for windage.
Added non-bolt interfering magnification throw lever - The integrated magnification dial throw lever allows for fast dialing, and it stops at the 1 o clock, which doesn't interfere with the action of the bolt on a bolt gun even if the bolt is oversized
Twilight technology - Better color and contrast consistency in low-light environments. It adds up to 30 minutes of illumination while eliminating 90% more glare-producing light than its competitors.
Improved Rotation Identification - The new turret numbering designates the first rotation second & third rotations, the button extrudes on the last rotation so the shooter doesn't get lost in the turret rotations.
Intuitive Windage Indexing Line - The new indexing line allows the shooter to work the windage adjustment and stay behind the scope without changing the shooting position
This is the one of the best 1st focal plane scope for a 243 rifle without breaking the bank
Magnification - 5-25x
Objective Lens Diameter - 50 mm
Adjustment Graduation - 1/4 MOA
Eye Relief - 3.4 inches
Tube Size - 34 mm
Focal Plane - Second
Length - 15.79 inches
Weight - 31.2 oz
First focal plane - It features the same magnification power as the Leupold Mark 5HD above, but this one is slightly cheaper
EBR-7C Reticle - Accurate reticle subtension for ranging with open center reticle for better target aiming visibility at long distances
Mag Change Lever - Includes throw lever for the magnification adjustment ring for quick dial
Improved Eye Box - It's more durable and comes with better glass, larger eye box and eye relief than the previous model.
Upgraded Turrets - The Gen 2 version features similar turret design as their high-end RAZOR product line. Similar to the Leupold zero stop for easy adjustment in the field
As the content creator of badassoptic.com, My background in the firearms industry and shooting sports gives me the experience to recommend tried and true products and keep away subpar ones.