4 Best ACOG Scopes For AR15
Trijicon ACOG is the top brand field grade magnified prism sight. Here are the 4 best ACOG scope options for AR15.
These ACOG (Advanced Combat Optical Gunsight) scopes have great glass clarity and reticle options for aiming with both eyes open, astigmatism, and enable fast mid range target acquisition and range estimation.
Let's check them out
Disclosure: All products have affiliate links for earning commission to support the website when you purchase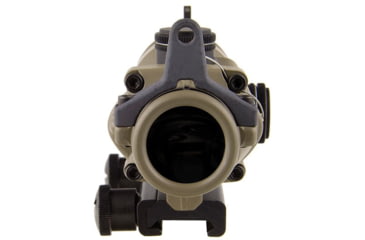 The Trijicon ACOG TA31RCO-M855 is US Marine Corp's first Rifle Combat Optic (RCO) on M16A4 20" or 14.5". The scope enables the user to aim with Bindon Aiming Concept (aiming with both eyes open + maximum situational awareness).
It provides ground troopers with the most durable optic on the battlefield, and crystal clear image to ID targets and to shoot accurate. These ACOG models are now available for civilian purchase.
Built Like A Tank - Withstand battlefield abuse and it has a long proven track record
Glass Etched Reticle Clarity - Calibrated for 5.56mm to shoot up to 600 meters. Reticle options also include 6.8 SPC and 300 BLK + bullet drop compensator
No Battery Required - Reticle stays on without battery
Back Up Iron or RMR - Secondary aiming solution is optional (Mount required), adding an Trijicon RMR is great for CQB red dot aiming
Short Eye Relief - Most people don't like short eye relief, but it provides the shooter the biggest target field of view while behind the scope
Versatile Mounting - Use any aftermarket ACOG mount including Quick Detach, or mount on old school M16 carry handle
Magnification: 4X
Objective Lens: 32mm
Reticle Type: Chevron, Horseshoe, Triangle, Donut, Crosshair
Eye Relief: 1.5"
Turret : 0.25 / click
Weight: 17.6 oz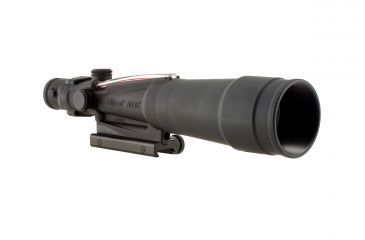 The Trijicon ACOG 5.5X50 is basically a 6X prism optic that extends the capability of a standard 4X ACOG scope to shoot up to 800 meters. If you want a durable fixed 6X magnification prism sight, this is the best option on the market.
800 Yards Enabled - Shoot up to 650 yards with holdover points at 5X magnification using illuminated AR-BDC4 reticle with 5.56 calibrated wind dot.
Much Finer Turret Adjustment - 0.2 MOA / click provides much finer reticle adjustments to get more accurate shot. About 0.05 MOA finer than most precision rifle scopes
Bigger Eye Box - This scope offers the largest objective lens and exit pupil specs among ACOG family scopes.
Piggyback Red Dot - Add a 1X red dot on top of the scope to transition from magnified view to 1X. Only available for the 5X model.
308 and 5.56 Calibrated - Get TA55A for 308 applications
Features:
Magnification: 5.5X
Objective Lens: 50mm
Eye Relief: 2.2"
Reticle Type: Chervon
Turret : 0.2 MOA / Click
Length: 12 inches
Weight: 25.6 oz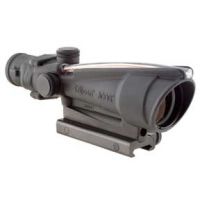 This shock resistant Trijicon ACOG 3.5X model features a much better eye relief performance than the original 4X model for helmet wearing users without the optic bumping into things.
Improved Eye Relief - The 3.5X model gives more eye relief distance for better cheek position.
Tighter Shot Groups - Same reticle options and aiming performance as the 4X ACOG
Various Reticle Options - We recommend the ACSS reticle for fast ranging and target acquisition.
Piggyback Offset Red Dot - Use an optional piggyback RMR mount to install a 1X red dot. Works with Holosun 507C as well
Daylight Reticle Illumination - Fiber optics illuminates the reticle even in low light conditions as long as it's not completely dark.
Magnification: 3.5X
Objective Lens: 35mm
Eye Relief: 2.39"
Reticle Type: TA11 BDC
Turret : 0.33 MOA / Click
Length: 8 inches
Weight: 14 oz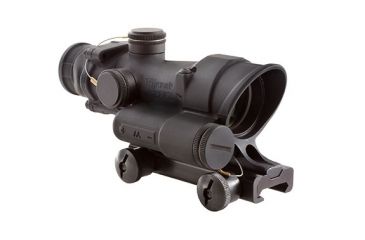 Built Like A Tank - This is built to the same specs as the TA10 model
6 Adjustable Brightness- Dial it on the go in any light conditions
Better PID Under Sunlight - Crank down the reticle brightness to aim better without a distracting glowing reticle covering the target
BDC Reticle - Calibrated for the NATO 5.56 up to effective 600 yards
Features:
Magnification: 1-4X
Objective Lens: 32mm
Eye Relief: 1.5"
Reticle Type: 5.56 BDC or 300BLK (Horseshe, Donut, Crosshair)
Turret : 0.5/ Click
Length: 6.02 inches
Weight: 18.1 oz