5 Best Leupold Scopes For AR15
Leupold makes many scopes, and you can't possibly get all of them. Here are the best leupold scopes for AR15 for hunting, tactical use and plinking.
We have sent people to test these and here is what you can expect when you pick up one of them
Top Leupold Scopes For AR15 Applications
Disclosure: All products have affiliate links for earning commission to support the website when you purchase
This is Leupold's ultra lighweight LPVO scope similar to the Vortex Razor 1-6X. This is a battle ready scope featuring tactical turrets and comes with fast magnification dial lever for hunting, personal defense and competitions.
CM-R2 reticles acts like a red dot at 1X, and feels like an ACOG TA31 at 6X.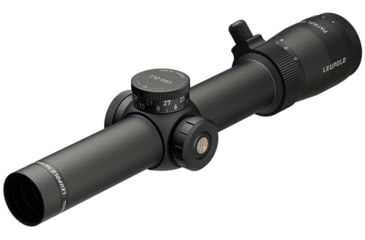 Magnification: 1-6X
Objective Lens: 40mm
Reticle: Illuminated CM-R2 or Firedot Duplex (

CM-R2 highly recommended

)
Focal Plane: SFP
Eye Relief: 3.7 - 3.8"
Overall Length; 10.8"
Weight: 16.2 ounces
Tube Size: 30mm
MOA Adjustment Range: 0.25 MOA / Click
Electronic Reticle Level - Auto detects scope level to 100% ensure proper zeroing and mounting processes for long range accuracy (Reticle flashes if not perfectly leveled)
Great Light Transmission - Hit mid range targets under different lighting conditions with HD image clarity
ACOG Alike Aiming Reticle - CM-R2 features fast aiming reticle like an ACOG TA31 + BDC reticles for shooting up to 900 yards (Only on 6X)
Motion Sensor (MST) - Illuminated reticle deactivates after 5 mins of inactivity to save more battery for night time use
Fast Focus Eyepiece - The shooter can quickly and easily adjust reticle focus to work with their eyesight. All good quality scopes have this.
Shockproof - Rugged construction withstands recoil and impact.
Tactical Turrets - Leupold's Custom Dial System (CDS) enables fast reticle dial on the go and ensure it's perfectly tuned to various chambered loads for the AR15 platform.
The VX 3HD features very clear glass quality in a lightweight package. It's more provides more magnification than the common 3-9X scopes, and it's great for hunting use.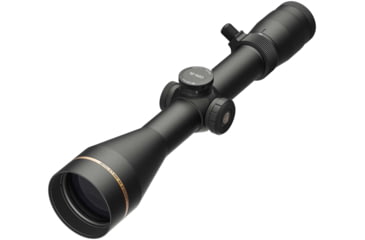 Magnification 4.5-14X
Weight - 15.0 oz
Objective Lens - 50mm
Length - 12.39"
Tube Size - 30mm
Turret - Exposed 0.25 MOA / Click
Eye Relief - 4.2 - 3.7"
Exit Pupil - 4.7 mm
Zero Stop - Same zero stop turret design on most Leupold scopes
Scratch Resistant Lenses - Hardened surface coatings to handle outdoor hunting use
The VX Freedom is a popular scope for many bolt guns and ARs, and this particular one features the .350 Legend reticle for an AR chambered in .350.
Magnification: 3-9X
Objective Lens: 40mm
Focal Plane: 1st Focal Point
Exit Pupil: 1.9 - 8mm
Eye Relief: 4.2 - 3.7 in 12X / 5.2 - 3.8 at 4X
Overall Length; 12.49 inches
Weight: 12.2 ounces
Tube Size: 1" tube or 30mm
MOA Adjustment Range: 0.25 MOA / Click
Reduced Glare - 3X and 9X all look clear for hunting and plinking under harsh lighting conditions
Custom Dial System Enabled - Same custom Dial System (CDS) can be installed simple target ranging with the pre-calibrated dial for the .350's ballistics
(Find 350 AR Uppers Here)
Zero Stop - Quickly return to zero like all other premium Leupold precision scopes
Scratch Resistant Lenses - Hardened surface coatings just like all other scopes listed in this guide to last long
This is high end Leupold scope is designed for long range shooting. The superior edge to edge clarity glass is exactly what a hunter and precision shooters need under extreme low-light and daylight conditions.
Magnification: 5-25X
Objective Lens: 56mm
Focal Plane: 1st Focal Point
Exit Pupil: 1.9 - 8mm
Eye Relief: 3.6 - 3.8 in
Overall Length; 15.7 inches
Weight: 33 ounces
Tube Size: 35mm main tube
MOA Adjustment Range: 0.25 MOA / Click
First Focal Point - Reticle scales relatively to all magnification levels for long range shooting
35mm tube for more click adjustments - This first focal plane scope is built for long-range shooting for more turret adjustments up to 100 MOA clicks for elevation and 50 MOA clicks for windage.
Added non-bolt interfering magnification throw lever - The integrated magnification dial throw lever allows for fast dialing, and it stops at the 1 o clock, which doesn't interfere with the action of the bolt on a bolt gun even if the bolt is oversized
Twilight technology - Better color and contrast consistency in low-light environments. It adds up to 30 minutes of illumination while eliminating 90% more glare-producing light than its competitors.
Improved Rotation Identification - The new turret numbering designates the first rotation second & third rotations, the button extrudes on the last rotation so the shooter doesn't get lost in the turret rotations.
Intuitive Windage Indexing Line - The new indexing line allows the shooter to work the windage adjustment and stay behind the scope without changing the shooting position
It's much more compact long range scope thanks to its shorter overall length. The short length occupies less top rail space and also leaves enough room to mount forward night vision or thermal optics.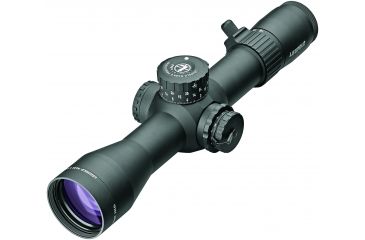 Magnification - 3.6-18x
Objective Lens Diameter - 44 mm
Adjustment Graduation - 1/4 MOA
Eye Relief - 3.5 - 3.8 inches
Tube Size - 35 mm
Focal Plane - FFP
Length - 12.1 inches
Weight - 26 oz
First focal plane - Engage close targets, while have the flexibility to reach out to long distances with accurate reticle subtensions across all magnification levels
Much Lighter To Carry Around - About 1 lb less than similar scopes in the same class
Tons Of Reticle Options - TMR, H59, Tremor 3, or PR1 MOA for long range shooting
Good Image Quality - Mark 5HD has punchy contrast, low distortion, and great image clarity under various lighting conditions compared to its competitors
NV or Thermal Ready - The scope's short length enables it to mount night vision or thermal optics in front of the optic
M5C3 Dial System - It features a zero-stop elevation turret with push-button lock and revolution indicator
FAQ
Where Are Leupold Scopes Made?
Leupold scopes are designed, machined, and assembled in the Beaverton Oregon manufacturing facility in the United States with great quality controls.
Anything shipped from elsewhere are counterfeit products.