A forward assist button on an AR15 upper receiver helps to seat the bolt in the event of the bolt not being fully seated.
The button is there to seat the bolt. However, it cannot fix the problem if there are double feed jams or bullet casing problems.
Disclosure: All products have affiliate links for earning commission to support the website when you purchase
Here A Forward Assist Works
If the user rides the charging handle on the way back, the bolt could get stuck just a little bit. All you need to do is slap the forward assist to fully seat the bolt.
Tip: Pull the charging handle all the way back and just let it return on its own. A bad recoil spring could be the problem.
We highly recommend the Geissele Braided Recoil Spring (Designed for high rate of fire machine gun, full bolt return force, no twang sound)
AR15 Receivers Without A Forward Assist
Yes, there are AR15 upper receivers without a forward assist. Some people like it because it weighs less and it clears up the room for Ambi charging handle latch on the right side.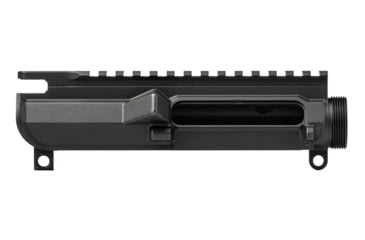 You can shop more AR15 upper receivers here
For the most part, the AR15 platform is very reliable and the chance of needing to use the forward assist is very low if the firearm is taken cared of.
This means:
Proper cleaning when it's time to do so
Proper lubrication
Using good ammo
Maintain buffer spring service life
Use the charging handle correctly