Here are the 4 best 1-4X scopes new and experienced competition shooters are using. These are low power variable optics great for beginners for range plinking and hunting.
Most of them are price friendly to start before getting into something more expensive.
Disclosure: All products have affiliate links for earning commission to support the website when you purchase
Top 1-4X Scopes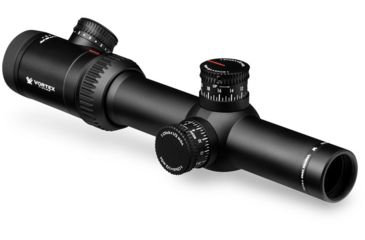 Why pick this low power variable optic - This is the most budget friendly 1-4X scope from an reputable company, Vortex Optics. Let's take a look:
Competition Ready - Affordable 3 gun shooting scope with one-piece aluminum construction and shockproof lens
Illuminated TMCQ MOA Reticle - Full ranging and holdover capability aiming reticle for day or night use
Tool-Less Turret Adjustment - Positive feedback turret with zero stop index point, it helps the user return to zero without getting lost in the rotations
Super Clean Glass - Optimal image sharpness using the XR low dispersion glass
Best Warranty Policy - You break it, Vortex will replace it at no cost with a lifetime, unconditional warranty.
Features:
Magnification: 1 4X scope
Objective Lens: 24mm
Focal Plane: SFP
Tube Size: 30 mm
Eye Relief: 4"
Click Value: 0.5 MOA
Reticle Type: TMCQ MOA
Turret Type: Capped
Length: 9.7 inches
Weight: 16 oz
Tactical Turrets
Why Use Bushnell? - Bushnell AR optics line are the best in quality and price for any new and experienced shooter. One feature we liked the most about this one is the first focal point reticle and the built in magnification lever.
Fast Magnification Change - Simply grab and lever and dial the magnification in one smooth hand motion instead of twisting with hands.
Tuckable Throw Down Lever - Magnification change lever doesn't interfere with bolt action rifle or charging handle. It can be stowed after use
Exceptional Clarity - Fully coated with anti-reflective layers to provide high contrast images and it's fog proof in cold environments
FFP - First focal plane reticle remains accurate for every magnification power setting
500 Yard Capable - Illuminated reticle calibrated for 5.56 NATO with accurate first focal point design
Features:
Magnification: 1-4X
Objective Lens: 24mm
Focal Plane: FFP
Tube Size: 30 mm
Eye Relief: 3.5"
Click Value: 0.5 MOA
Reticle Type: Illuminated BDC
Turret Type: Tactical Turrets
Length: 9.4 inches
Weight: 18 oz
What Makes This Althon Scope Great ? - The Athlon Talos is very similar to the Vortex Viper PST, but with way better eyebox performance. This is a budget friendly option with couple features that makes it a great 1-4X scope for target shooting.
Great For Plinking - Use for airsoft, 22LR or 223
Great 1X Eyebox - Illuminated 1X reticle feels like an red dot with plenty of brightness even in low light conditions + flexible head movement without much cheekweld position change
Draws The Eye In - 4 arrows quickly draws the eye to the center of the reticle for fast aiming
Sharp Center - Image details remain sharp in the center at 4X while slightly blurry on the edge
Finite Reticle Clarity - Get a clear hold on a target clearly with the closed center crosshair that catches the eye, even under cloudy sky
Very Positive Turrets - Every click tracks perfectly
Features:
Magnification: 1-4X
Objective Lens: 24mm
Focal Plane: SFP reticle
Tube Size: 30 mm
Eye Relief: 3.5 - 6"
Click Value: 0.5 MOA
Reticle Type: Illuminated BDC
Turret Type: Tactical Turrets
Length: 9.2 inches
Weight: 18 oz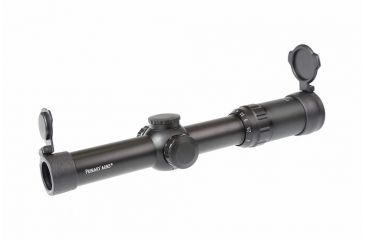 Why we picked Primary Arms - Primary Arms has been on the frontline producing some of the best prism scopes made with aircraft grade aluminum construction. This is one of the best 1 4X scope Primary Arms make under $150 with a very useful reticle systems.
Illuminated Reticle - Illuminated duplex dot for point of impact, point of aim type of shooting (Not BDC reticle)
12 Brightness Settings - Visible reticle under daylight or night time use
Adjustable Eye Piece - Adjust ocular lens to focus image to your eye sight
Lifetime Warranty - Every Primary Arms products are backed by the same excellent customer service
Features:
Magnification: 1-4X
Objective Lens: 24mm
Focal Plane: SFP
Tube Size: 30 mm
Eye Relief: 3.5 - 6"
Click Value: 0.5 MOA
Reticle Type: Duplex Dot
Turret Type: Capped
Length: 11.1 inches
Weight: 16.7 oz
Why Try The ELCAN? - This is the U.S. special forces dual role prism sight works extremely well for shooters with astigmatism either at 1X or 4X. It's a classic 1-4X prism optic for tactical carbines for close range and distanced targets.
Skips Right To 4X - Go from 1X to 4X target acquisition with a fast magnification lever change
Built Like A Tank - Drop it, kick it, throw it. It will stay on the rifle and survive
Illuminated Bullet Drop Compensator - Accurate shooting for 5.56 or 308 up to 1000 meters, Use for machine guns or semi auto rifles
Quick Detach Mount - Lever mount
Build-In Back Up Sights - Use iron sight on top or mount micro red dot for even faster sight picture switch
Features:
Magnification: 1-4X
Objective Lens: 32mm
Eye Relief: 2.75"
Reticle Type: 5.56 BDC
Turret : 0.5/ Click
Length: 6.02 inches
Weight: 23.2 oz
---
Common FAQ
Why Pick 1-4X?
1-4X magnification is great starting point for plinking, hunting and competition shooting.
It's not quite a long range scope, but it's a good entry point into the low power variable optics.
In order to PID targets better far away, we have to look at 1-6X, 1-8X or 1-10X. Check it out here
There are other factors involved:
Eye box
Field of view
Glass quality
Price
Reticle
Looks
Weight
Tactical turret designs
For people who have access to long distance shooting ranges and get to do cool stuff, you might consider getting the 8X, and it will be a little more expensive than the 6X as the magnification increases.
We highly recommend going to a local store and test it out first in person before making a decision. Optics are those products that you must physically try to get a sense of the quality.
Glass Quality
Most optics today are coated with low dispersion glass to increase clarity. The bigger the objective lens diameter lets the scope gather more light to increase the picture brightness.
The user can only see as clear as their eyes allow, and most scopes are crystal clear more than people's 20/20 vision except for some glass edge to edge blur.
Durability
Most rifle scopes today are made with high quality aerospace grade aluminum body, and most tubes are nitrogen purged and heat treated to handle shock and prevent fog to built up on the glass.
This means most scopes mounted securely on a rifle can handle getting banged on tree branches, scraped and dropped from shoulder level height.
Mounting System
Most LPVO recommended above can go with a 30mm quick release scope mount or rings.
Other prism optics like the ACOG goes a proprietary mount.
Picking a good mount directly affects accuracy.
Check out more 30 mm scope mounts here
Tube Size Matters For a LPVO
30mm is the most common scope size in the industry, but a 34mm tube provides several performance advantages including:
Much wider field of view and eye box for 1X action with a LPVO
More adjustment clicks
Close Quarter Eye Relief VS Red Dot Eye Relief
A good eye relief for a magnified scope is around 3.5"
The eye relief at 1X on a LVPO is not exactly the same as an red dot sight. The biggest difference is that the LPVO scope shadow creeps in when the head position is almost out of the eye box.
The eye box exists for LPVO, but not a 1X red dot sight.
The eye relief distance for an red dot is unlimited, but most low power variable optic has a generous eye box.