7 Best AR15 Build Kit Minus Lower
Check out these 7 best AR15 build kit minus lower receiver. We ranked them based on cost and build features. Nothing will repeat in this list.
Check it out:
Get the complete kit and find a lower receiver here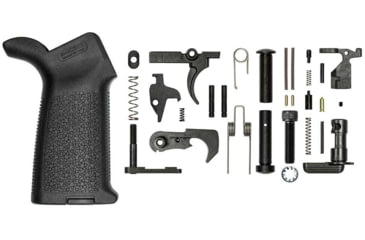 This build kit is for anyone only need a lower parts kit
Compete lower parts kit minus lower receiver
Including Magpul MOE grip
If you want a non-standard AR15 build kit, check out the Brownells BRN 180 series kits. It features a full AR upper receiver + some parts kit
BRN 180 Gen 2 is a special side charging AR15 inspired by 1960s' Armalite® AR-180
It works with any standard AR15 lowers including lowers

without a buffer tube assembly

.
The short stroke gas piston like the Sig MCX can shoot suppressed and unsuppressed (with adjustable gas block).
The handguard is secured by a large single locking screw to provide tighter lockup than the previous design.
The BRN-180 is chambered in .223 Wylde and 7.62X39. Users can purchase 10.5" 16" or 18.5 barrel length"
This is a AR15 built kit features every part you need except for the lower receiver
SMR MK16 Handguard fully locked in with upper receiver to prevent shifting
Best complete AR15 upper assembly you can buy for a field grade AR15
USASOC certified upper for performance, comfort and adaptability
Stress proof forged bolt using 158+ steel
Mil spec buffer tube extension + recoil springs
Complete lower parts kit minus lower receiver
Lower kit include Super 42 spring kit (machine gun grade) and SSA-E X lightening bow trigger
This is the lower parts kit recommended for finishing up the lower receiver into a AR15 pistol configuration. This kit contains:
Mil-spec trigger kit including spring and sear
Pistol grip + buffer tube system including spring
Includes a Mission First Tactical Battlelink pistol stabilizer
This kit is for anyone who already have a complete upper receiver and a lower receiver to complete the pistol build.
For stripped lower receiver, go here
If you're a classic Magpul MOE AR15 setup, the PSA MOE carbine length build kit is the best option for a good price.
The kit includes:
A complete PSA M4 carbine length upper with a NATO 1/7 twist barrel
Magpul grip and CTR stock
Full lower parts kit without main lower receiver
For anyone building a 20" rifle gas length AR15 that shoots 6.5 Grendel, check out the PSA 20" build kit.
The kit contains every thing to finish the build minus the lower receiver.
Full rifle gas length upper receiver chambered in 6.5 Grendel
CHF barrel
Magpul CTR stock and full lower parts kit
15" M LOK handguard
Strike Industries Build Kit - Best Designs