4 Glock 43 Slide Kit [Custom Optic Ready]
Tired of the factory OEM Glock 43 slide? If you want something a little more custom, this guide lists the 5 best Glock 43 slide kit you can buy online to improve your current G43 or build one from scratch.
We picked these red dot ready slides based on looks, weight, and overall functionality to build the dream Glock you want.
Best Glock 43 Custom Slide Kit [Optic Ready]
Note: Glock 42 and 43 slides DO NOT require firing pin channel liners because they are slimline carry Glocks.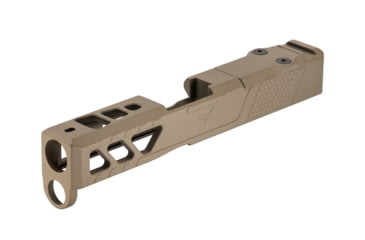 TRYBE defense make some hot selling aftermarket Glock slide products at good price points. Their Glock 43 slide and barrel combo come with easy to grip serration textures and the barrel offer great aesthetic designs.
Cover Plate Included - All optic ready slides come with cover plates. Works for Polymer 80 builds as well
Faster Follow Up - Lighter slide to reduce recoil momentum to reacquire the sight faster
Show Off Barrel - Side windows shows off the slick custom barrel you have
Lightening Cuts - Improved for fast cycling and aggressive serration
Better Optics Compatibility - RMSc
*Get a TRYBE Defense threaded match grade barrel here
Optic ready right out of the box
Serrated slide
Great pricing
Cerakote to fight corrosion
Window cuts to show off barrel design
RMSc Only
Window cuts may not be field reliable
This Brownell Glock 43 slide is cut for the RMRcc right out of the box. The mounting holes feature index posts to provide deeper screw thread contact and much tighter optic mounting.
This17-4 stainless steel slide has standard grip serrations (No marking), and it feels the same as the OEM Glock 43 slide without rear sight.
Since Glock 43X MOS is not compatible with the RMRcc, this precut slide is for you!
Optics Compatibility - RMRcc ONLY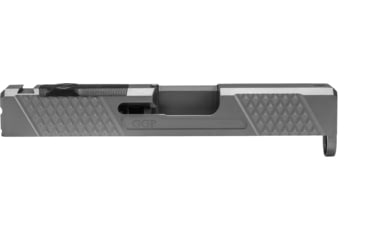 Grey Ghost Precision offers ZEV alike G43 slide kit with aggressive serration cuts.
V1 or V2 - Angled serrations or diamond checkering pattern for different variation
Compatible With OEM Parts - It works with existing Glock 43 internal parts & Polymer 80 lowers
Optics Compatibility - RMSc footprint only
Unique slide front cut
Works with SS80 G43 build
Tighter tolerance
Comes with cover plate
Comes with no iron sights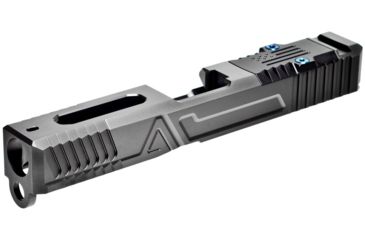 Agency Arms tricks out your stock Glock 43 to another level. This is the highest premium quality 17-4 stainless steel Glock 43 stripped slide on the market. It's precut with lightening cuts, serrations and the signature Agency Arm logo.
Rock Solid Coating - Diamond like carbon finishes to give that super slick gun feel
Slick Aesthetics - Looks matters, and this delivers
Optics Compatibility - RMSc only
Very slick design
Very high quality coating
The ultimate eye candy
Very Expensive
RMSc only (RMRcc doesn't fit)
Norsso makes some very slick Glock 43 and 43X slides (The same) made with solid 17-4 precipitation hardened stainless steel. The N43 Singularity slide is optic ready for any RMSc cut optics like the Shield RMSc, Holosun 507K, Romeo Zero, Swampfox Sentinel.
The most impressive part is the beveled cocking rear serrations to provide a much better slide grip without slipping.
Norsso also offer custom slide milling order to make the exact Glock 43 slide with designs you want.
---
FAQ
Does A Glock 43 Slide Work With Polymer 80 PF9SS Frame?
Yes.
Why Change Slide?
The factory Glock 43 slide works just fine, but if you want to mount an optic without having to mill it or buy a Glock 43 MOS, an optic ready Glock slide is here for you.
In addition, these slides offer better aesthetics, serration patterns and overall feel.
How Long Is A Glock 43 Slide?
A Glock 43 slide measures 6.06 inches. Most aftermarket Glock slides will work with your existing holsters (Except for using a compensator)
How To Mount A RMRcc On A Glock 43?
To mount a RMRcc, it's best to mill the holes on a blank factory G43 Slide (Non- MOS). This is way better option than buying adapter plates that end up mounting the optic too tall.
See side by side comparison here