3 Glock 43 Complete Slide Kit [Red Dot Ready]
Tired of the factory Glock 43 slide? If you want something a little more custom, this guide goes over the 3 best Glock 43 complete slide you can buy online.
We picked these red dot ready slides based on looks, weight, and overall functionality to build the dream Glock you want.
Best Glock 43 Complete Slide Assembly [Optic Ready]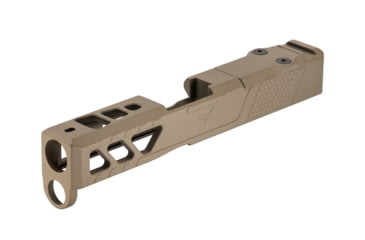 TRYBE defense are hot selling Glock 43 and 43X optic ready slides with aggressive texture that's easy to grip and operate.
Cover Plate Included - All optic ready slides come with cover plates
Faster Follow Up - Lighter slide to reduce recoil momentum to reacquire the sight faster
Show Off Barrel - Side windows shows off the slick custom barrel you have
Lightening Cuts - Improved for fast cycling and aggressive serration
Better Optics Compatibility - RMSc
*Get a TRYBE Defense threaded match grade barrel here
Optic ready right out of the box
Serrated slide
Great pricing
Cerakote to fight corrosion
Window cuts to show off barrel design
RMSc Only
Window cuts may not be field reliable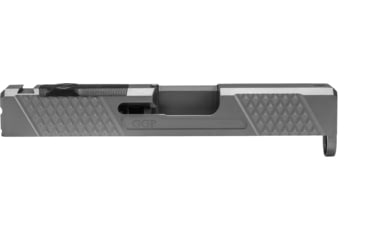 Grey Ghost Precision offers ZEV alike Glock 43 slide cut patterns
V1 or V2 - Angled serrations or diamond checkering pattern for different variation
Compatible With OEM Parts - It works with existing Glock 43 internal parts
Optics Compatibility - RMSc footprint only
Unique slide front cut
Works with SS80 G43 build
Tighter tolerance
Comes with cover plate
Comes with no iron sights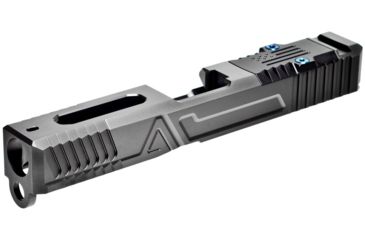 Agency Arms tricks out your Glock 43 to another level. This is the highest premium quality 17-4 stainless steel Glock 43 slide on the market. It's precut with lightening cuts, serrations and the signature Agency Arm logo.
Rock Solid Coating - Diamond like carbon finishes to give that super slick gun feel
Optics Compatibility - RMSc only
Very slick design
Very high quality coating
The ultimate eye candy
Very Expensive
RMSc only (RMRcc doesn't fit)