[Top 6] Best AR 15 Scope Mount - Tight Clamp & Return To Zero
For anyone looking for the best scope mount for AR 15. These are high precision machined products to ensure accuracy and produce repeatable zero on budget to high end AR15 builds.
Check them out here:
Top Scope Mounts For AR-15
Why pick Geissele brand scope mount - Geissele Automatic Super Precision scope mount is US military SOPMOD certified. It's designed for Leupold Mark 6, but works well for Vortex RAZOR 1-10X to hold zero and survive rough field use.
High Precision Machined - One piece build with matching scope ring for perfect surface contact to secure the 34mm tube
Retains Zero - Swap out optic in the field to any optic and expect the same mount to return zero
Locks In Tight - Very tight tolerance with built-in 2 recoil lugs to secures the optic on any M1913 top rail
Weight: 7.2 oz 7075 T6 aluminum
Screw Type: Keeper Nut
Torque Spec:
Base Clamp: 72 in/lbs
Ring Screws: 15-18 in/lbs
Very tight mount tension
Rock solid 7075 T6 construction
High confidence return to zero
Hold scope tight on high recoil rifle
Keeper nuts stick out (May interfere with charging handle operation)
Non reversible
Why pick Vortex brand scope mount - Vortex scopes are top notch, and this is there 34mm QR 34mm cantilever scope mount is affordable and gets the job done.
Tight Rail Clamps - Similar to Giessele Super Precision mount system
Weight: 7.3 oz Aluminum
Screw Type: Torx 15
Torque Spec:
Base Clamp: 20 in/lbs
Ring Screws: 18 in/lbs
Affordable
Beefy body design
Some units may have quality control problem
Why pick Geissele brand scope mount - Besides the LaRue Tactical QD mounts, the American Defense AD RECON 30 STD scope mount is one of the best for Vortex Razor 1-10X besides the LaRue Tactical SPR mount.
1.93" Height - Sits tall most AR15 rifles with very user friendly cheek-weld positions
QD Lever - Every QD lever has locking button to prevent loosening of the mount under heavy recoil
Lightening Cuts - Reduces overall weight of the optic while still maintain it's rigidity
Auto Lock System - Works on mil-spec or out of spec rail systems
Weight: 8.4 oz 6061 T6 aluminum
Torque Spec:
Base Clamp: Hand tight
Ring Screws: 15-18 in/lbs
Superior clamping force
Hard coated for life time performance
No proprietary tools required for adjustment
Scope ring lightening cuts to save weight
Non reversible
May interfere with left side charging handle
Why pick LaRue Tactical - The LaRue Tactical QD mounts are US made scope mount widely distributed across the civilian, LE and military market.
These are vertically split QD scope mount come with awesome aesthetics and return to zero performance for any high end AR15 builds.
Various Mount Height - Short and tall mounts are available
Tight Mount - The QD lever maintain tight tension and features recoil lugs to clamp the scope down
One Piece Mount - Precision machined out of bar-stock aluminum
Return To Zero - Remove, remount without losing zero on any AR15 top rail
10 or 20 MOA Tilt - Pick 10 or 20 MOA tilt for long range shooting
Tight clamping
Good return to zero performance for high end scopes
Lightweight
10 or 20 MOA tilt mount offered
Non reversible
QD lever can catch on things like sling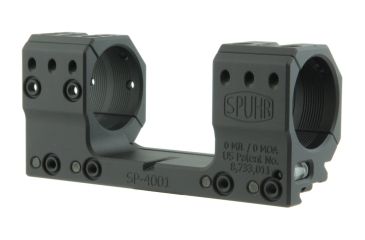 SPHUR is a very high end optic mounting system for high precision rifle scopes. The ISMS scope mount features 45 degree split of the rings to provide unobstructed POV and provides rifle cant indicator.
This is an beefy and sturdy riflescope for the professionals made out of a single billet aluminum.
Weight: 8.4 oz 7075 T6 aluminum
Torque Spec:
Base Clamp: Hand tight
Ring Screws: 15-18 in/lbs
Superior clamping force
Cant indicator reference line
Precision machined one piece mount
Why pick Burris brand scope mount - This is the best for the money 34mm scope mount for any 34mm scopes without spending expensive money. The biggest selling point is its super lightweight construction
QD Lever - Remove the scope mount in the field without tools like the LaRue Tactical mount
Locks In Tight - Retains zero well for Vortex Razor 1-10X scope on any M1913 top rail
Super Lightweight - It weighs 45% less than similar mounts available on the market
Weight: 4 oz
Torque Spec:
Base Clamp: 65 in/lbs
Ring Screws: 20 in/lbs
Very affordable mount
Slim profile with cross slot keyway for recoil protection
No snag hazard
Vertical split design to hold zero