Here are the 6 best Sig P365XL upgrades to improve the overall handling and performance of this amazing 9mm firearm.
Check it out:
Adding a barrel compensator helps to reduce muzzle flip by 10 - 30%, thus helps the shooter to reacquire the sight picture faster and smoother when using a red dot sight.
Not all compensator can achieve the same performance unless they are well engineered. This is the closest modification to match the performance of the factory P365 Comp Spectre.
*Another product worth to check out is the PMM Micro JTTC P365 compensator (Requires proprietary barrel)
Highly recommend for both standard length and XL length P365s.
An aftermarket slide offers a completely different feel to your P365. A good aftermarket slide should feature optic cut, serrations and unique design.
While the factory optic ready P365 are milled for RMSc footprint. Most aftermarket slides are the same way to accept popular optics like Shield RMSc or Holosun 507K.
RMRcc requires custom milling.
Our favorite pick is the ZEV P365 Slide. If you want to see other P365 slide options, please click here.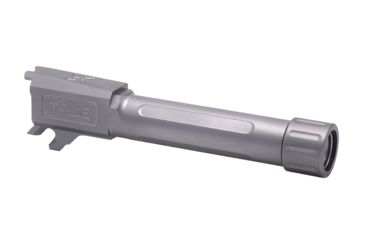 Upgrading the barrel isn't necessary unless you want to mount a suppressor or a compensator, we recommend the True Precision P365 threaded barrel.
A threaded barrel allows the mounting of a suppressor or a muzzle brake device. It's not a absolute must have upgrade, unless you want to play around with them.
An aftermarket barrel does the following:
Tighter lock up
Cooler design that shows when using a window cut slide
Improved accuracy
Threaded barrel can mount suppressor or compensator
First of all, having a light on your P365 is a must if you conceal carry. It enables low light target identification, search and non lethal encounter.
We recommend the Streamlight TLR7 Sub to be the first priority upgrade for P365 than others.
ID Targets In The Dark - See things in the dark from 9, 12 to 3 O'clock positions with this small light.
Slide Always In Battery - The light bezel overhang pasts the muzzle prevents the slide from getting out of battery during point blank engagement.
Strobe Mode Available - Activate by Streamlight's TEN TAPS programming,
Uses Just 1 CR123A - Up to 500 lumens & 5000 candela just like the full size TLR 7A that last for 90 mins.
Features:
500 Lumens
5000 Candela - 120 Meter Throw
1 CR123A Battery
Ambi Toggle Switches
Snag Free Switches - Activate the light easily from either sides. Super responsive switches that just work even in freezing weather with stiff hands and fingers
See detailed review here
Mounting the Holosun 507K on the Sig P365 allows the shooter to acquire the sight picture much faster than using iron sights. This is by far the best compact carry optic for any subcompact carry guns.
The factory iron sights are great, but the red dot provides a completely different aiming experience.
Both Eyes Open - Focus on the target instead of aligning front sight, rear sight and target plane
Improved Accuracy - Aim with more precision and it provides immediate feedback on micro hand tremor
RMSc Footprint - Fits directly to optic ready P365 or aftermarket slides (See more RMSc optics here)
Long Battery Life - Last over 50K hours without having to turn it off
See detailed review here
This steel frame 7075 T6 aluminum frame grip is much stiffer and can absorbs more more recoil compared to the factory polymer grip module. This means a much softer recoil when shooting your P365 especially when using 147 gr or +P ammo.
It works even better when paired with a compensator.
In addition, the accessory rail is M1913 to accept various lights without any adapter. This means the TLR 7 Sub, Olight Mini and other M1913 pistol light can go on this.
See compatible lights here