Here are the 6 best Sig P365XL upgrades to improve the overall handling and performance of this amazing subcompact 9mm handgun.
I've shot and carried this gun for quite sometime to recommend these upgrades and eliminated ones that don't serve a performance boost purpose out of this list.
Best Sig P365XL Upgrades
Disclosure: All products have affiliate links for earning commission to support the website when you purchase
The Holosun 507K on the Sig P365 allows the shooter to acquire the sight picture much faster than using iron sights. This is by far the best concealed carry optic upgrade for Sig Sauer P365.
Both Eyes Open - Focus on the target instead of aligning iron sights to maximize situational awareness
RMSc Footprint - Fits directly to optic ready Sig Sauer P365 or aftermarket slides (See more RMSc optics here)
Long Battery Life - Last over 50K hours without having to turn it off
Sig Custom Trigger - Best P365 Trigger Upgrade
Upgrade your trigger with this comprehensive Fire Control Unit kit, designed to enhance your shooting experience while maintaining safety and reliability. Compatible with all P365 variants, this all in one trigger kit provides everything you need to fine-tune your trigger performance. (However, a new Background check is required since it's a serialized part)
Improve trigger pretravel - With a pretravel stop and optional OEM modified slide cap, this kit helps reduce the distance from the start of the trigger pull to the wall, allowing for a smoother and more controlled pull.
Customize sear engagement - The kit includes patent-pending Sear Control Springs, enabling you to adjust the wall/break feel and wall-to-break/reset distance for your desired results.
Minimize overtravel - The stainless steel overtravel stop decreases extra travel after the break, ensuring a more precise and accurate shooting experience.
Optimize pull weight - A reduced power striker safety spring lowers the pull weight to 3.5 to 4 lbs after break-in, contributing to a lighter and smoother pretravel.
First of all, having a light on your concealed carry Sig Sauer P365 to target ID in low light situations.
We recommend the Streamlight TLR 7 Sub to be the first priority upgrade for Sig Sauer P365
ID Targets In The Dark - See things in the dark from 9, 12 to 3 O'clock positions with this small light.
Slide Always In Battery - The light bezel overhang pasts the muzzle prevents the slide from getting out of battery during point blank engagement.
Strobe Mode Available - Activate by Streamlight's TEN TAPS programming,
Uses Just 1 CR123A - Up to 500 lumens & 5000 candela just like the full size TLR 7A that last for 90 mins.
Features:
500 Lumens
5000 Candela - 120 Meter Throw
1 CR123A Battery
Ambi Toggle Switches
Snag Free Switches - Activate the light easily from either sides. Super responsive switches that just work even in freezing weather with stiff hands and fingers
See detailed review here
Adding a barrel compensator helps to reduce muzzle flip by 10 - 30%. This is one of many accessories to improve sight acquisition.
Not all compensator can achieve the same performance unless they are well engineered. This is the closest Sig P365 mods to match the performance of the factory P365 Comp Spectre.
Highly recommend for both standard length and Sig P365XL models.
This is one of the best slides to building one from scratch or upgrade your factory slide.
Most aftermarket slides are machined to accept popular red dot sights like Shield RMSc or Holosun 507K.
RMRcc requires custom milling.
Our favorite pick is the ZEV P365 Slide.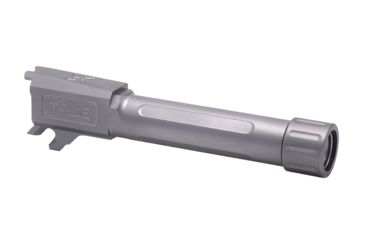 Upgrading the barrel isn't necessary unless you want to mount a suppressor or a compensator, we recommend the True Precision P365 threaded barrel.
A threaded barrel allows the mounting of a suppressor or a muzzle brake device. It's not a absolute must have upgrade, unless you want to play around with them.
An aftermarket barrel does the following:
Tighter lock up
Cooler design that shows when using a window cut slide
Improved accuracy
Threaded barrel can mount suppressor or compensator
This steel frame 7075 T6 aluminum frame grip is much stiffer and can absorbs more more recoil compared to the factory polymer grip module. This means a much softer recoil when shooting your P365 especially when using 147 gr or +P ammo.
It works even better when paired with a compensator.
In addition, the accessory rail is M1913 to accept various lights without any adapter. This means the TLR 7 Sub, Olight Mini and other M1913 pistol light can go on this.
As the content creator of badassoptic.com, My background in the firearms industry and shooting sports gives me the experience to recommend tried and true products and keep away subpar ones.