In this Streamlight TLR 6 review guide, let's see if this light is still good up to today's standards. This light offers many mounting options for many railed and non railed models, but the main light stays the same.
I have purchased the light to test the fitting on the Sig P365, and there are things I liked and dislike that I have put into this guide to share. Hopefully this can provide some insights for anyone researching to buy one.
---
Core Specs - Streamlight TLR 6
| | |
| --- | --- |
| Max Output — White Light | 100 Lumens / 2000 Candela |
| Runtime | ~60 Mins |
| Length | 2.2" |
| Weight w/Batteries | 1.27 oz |
| Batteries | 2 CR 1/3N |
Sold In 20 Separate Models.
See part number info sheet here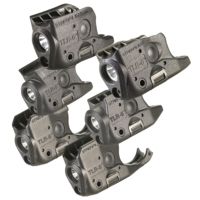 TLR 6 Works for:
Kahr Arms TP40, SIG Sauer P938, Glock 43, Glock 48, Smith & Wesson M&P 9 Shield, Kahr Arms CM40, Kahr Arms CW9, Smith & Wesson M&P 40 Shield, SIG Sauer P238, Kahr Arms P40, Kahr Arms PM9, Kahr Arms TP9, Glock 33, Glock 42, Glock 27, Glock 26, Kahr Arms CW40, Glock 43X, Kahr Arms P9, Kahr Arms CM9
---
What's Included In The Packaging
The Streamlight TLR 6 comes in a standard Streamlight packaging that includes:
Streamlight TLR 6
2 CR1/3N batteries
Allen key
Streamlight sticker
Mini Streamlight catalog
What Is This Light Best Used For
The TLR 6 is a great sub compact lights for its size before higher lumen lights hit the market. Don't let the 100 lumens spec fool you into thinking it's a bad light.
In fact, the hot spot is pretty impressive for a light this small. It's great for close up CCW use without being too blinding.
However this is definitely not the light for long range illumination to ID targets in bushes, tree lines, hallways or similar environments.
---
TLR 6 SUB Core Features
Size & Weight
The TLR 6 with battery weighs about 1.27 oz. It's so light and the weight is almost neglectable.
The light body is very streamlined and it fits our P365 XL very well. It almost felt like it's a part of the pistol with continuous curvatures along the pistol frame.
See other best lights for Sig P365 here
Modes Of Operation
Single click - Constant on
Press & Hold - Momentary
TLR 6 features the ambi toggle switches that has positive click feedback and it's reachable for most shooter.
The user can activate the light with index finger or thumb.
Lumen & Candela
The TLR 6 can only do 100 lumens & 2000 candela on 2 fully charged CR1/3N batteries. The light performance is by far the best out of other 100 lumens lights because the reflector can concentrate the hot spot down range for positive target identification up to 10 - 20 yards, and it's quite blinding at close up distance for threat control.
The spill is as wide as 8 feet at about 10 yards to see pretty much everything in the environment.
The light is effective up to 20 yards, and anything past that we highly recommend the Streamlight TLR 7 Sub.
It's a new light that has 5X more lumen intensity for brighter illumination, brighter spill and 2.5X more candela to throw the light beam even further.
When it comes to fog and open wide space in the dark, the TLR 6 is not an effective light for identifying targets at longer distances and the light beam is just not strong enough to overcome photonic barriers.
Beam Pattern & Color Tint
The light beam has a concentrated hot spot as small as a 8" plate at 5 yards, and it's better than the Viridian C5L, Olight Mini and other sub compact lights.
The light has a neutral color tint, which is preferred for more accurate color rendition in low light.
See the difference below:
TLR 1 HL, much brighter for low light situation awareness
Battery
The light uses 2 CR1/3N battery that lasts about 60 mins from a full charge.
To install the battery, peel open the aluminum retainer clip to expose the battery compartment.
The only complaint I have about it is that you have to either use a thin flat head to peel it open or use finger nail. Sometimes it feels like you can peel off your finger nail because it's locked in pretty solid.
Mount & Rail Keys
For the P365 model, the light locks onto the proprietary SIG rail and the body wraps around the trigger guard.
To install the light does take time. It's definitely NOT a light where you can slap it on in less than 3 seconds like the Surefire X300, TLR 1 and TLR7A.
The user has to remove the 3 retention screws first, then mount it on the gun, then tighten the 3 screws.
Conceal Carry Use
The TLR 6 is mostly polymer construction. The light unit is actually contained inside and it can be removed and the outer body shell provides protections against daily normal use such as wear and tear.
The body is very contoured without anything sticking out to create annoying snag hazard. So the user can pull the gun in and out of the holster very smoothly.
---
Final Verdict
Overall, the TLR 6 works well on subcompact pistols with its concentrated hot spot performance even though its only 100 lumens & 2000 candela.
It's by far the smallest size sub compact light for conceal carry with outstanding non snag design
Pros
Non snag body profile
Very concentrated hot spot for a light this size
Super lightweight
Low profile ambi activation control
Cons
Installation requires tools and does take time
Various model part number can be confusing (must buy the right one for your gun)
Battery compartment door is hard to open with finger nail strength (use flat head screw driver)