Can You Put A Red Dot On A Beretta 92fs (M9)? It doesn't look like it can, but there are ways...
The easiest way is to use a Dovetail rear sight adapter, and we recommend the Sight Mount Gunsight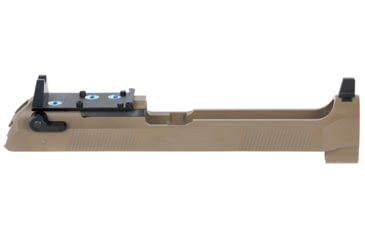 [New] Langdon Tactical Elite 92FS Optic Ready Slide
Thanks to Langdon Tactical for finally making a low mount Beretta 92FS slide available to the market in 2020.
It was a difficult upgrade, but Ernest Langdon at LTT has figured it out!
LTT RDO is the official name and you can check them out on Langdon Tactical's website here.
Upgrade challenges in the past - The original 92FS 's firing pin block protrudes out of the top of the slide. The extractor is long, situated high on the slide, and, it's basically impossible to install a red dot into the slide like a Glock.
What we like about the LTT slide upgrade - Langdon Tactical trimmed the safety lever. In another word, they decided to sacrifice the rear sight dovetail to free up more slide real estate on top, and it incorporated an integral backup rear sight into the red dot's mounting plate.
The optic sits low compared to dovetail mount
No reliability compromise
5 new redesigned parts:
Firing pin & Firing pin block
Extractor pin & Safety levers
Safety plunger & additional red dot adapter plate.
This places the red dot as low as physically possible in the Beretta 92 slide. LTT measured the distance from the center of the bore to the center of an RMR's window at 0.85 inches.
Check out: Best Handgun Red Dot Optics
Sight Mount Gunsight Mount - 2nd Option
The dovetail beretta 92fs red dot adapter mount replaces the rear iron sight without using the rail mount plate or milling the slide.
SightMount is a piece of Picatinny rail that replaces the rear sight assembly on the M9 slide. The difference is that the middle rail cross-section is cut for three-dot sight sight picture acquisition.
But the optic sits too high on the slide.
PREVIEW
PRODUCT
FEATURES

MOST RIGID M9 OPTIC MOUNT

Features

:6061 T6, Dovetail Pictianny Mount

Benefits

:Simple installation, Replaces rear iron sight, Pistol recoil proof

http://shrsl.com/21gr6
Other Beretta 92FS Optic Mounting Plates - 3rd Option
The following options are dovetailed adapters that require no milling on the slide at all. All of them are fitted to go on top of the slide and it doesn't conflict with the trigger block.
Make sure to use some Loctite to secure it on the slide.
Rail Mounted Beretta 92 Scope Adapter
This might NOT work for all the Beretta M9 series handguns. It will for the railed framed version such as M9A1, 96A1, M9A3.
The rail-mounted sight adapter will make your M9 handgun look like a competition pistol.
This concept is pretty popular even for other striker-fired pistols.
It reduces g-force on the red dot sight, and it allows better dot tracking for a faster followup shot.
Get Beretta 92X RDO Or Beretta M9A4