Can You Put A Red Dot On A Beretta 92fs (M9)? Here are ways to install a red dot on a Beretta 92FS and other optic ready M9 models.
The easiest way is to use a Dovetail rear sight adapter on older generation 92FS, and we recommend the Sight Mount Gunsight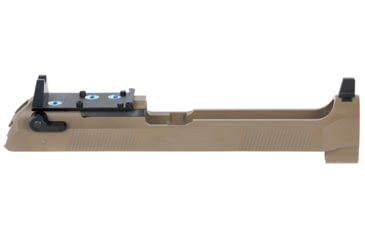 M9 Optic Setup Options
Disclosure: All products have affiliate links for earning commission to support the website when you purchase
Langdon Tactical Elite 92FS Optic Ready Slide
LTT RDO is the official name and you can check them out on Langdon Tactical's website here.
Upgrade challenges in the past - The original 92FS 's firing pin block protrudes out of the top of the slide. The extractor is long, situated high on the slide, and, it's basically impossible to install a red dot into the slide like a Glock.
What we like about the LTT slide upgrade - Langdon Tactical trimmed the safety lever. In another word, they decided to sacrifice the rear sight dovetail to free up more slide real estate on top, and it incorporated an integral backup rear sight into the red dot's mounting plate.
The optic sits low compared to dovetail mount
No reliability compromise
5 new redesigned parts:
Firing pin & Firing pin block
Extractor pin & Safety levers
Safety plunger & additional red dot adapter plate.
This places the red dot as low as physically possible in the Beretta 92 slide. LTT measured the distance from the center of the bore to the center of an RMR's window at 0.85 inches.
Check out: Best Handgun Red Dot Optics
Sight Mount Gunsight Mount - 2nd Option
The Beretta 92fs red dot adapter fits in place of the rear iron sight without needing a rail mount plate or changing the slide.
SightMount is a rail that takes the place of the M9's rear sight. It has a special cut in the middle for a three-dot sight view.
However, the optic is too high on the slide.
Get Beretta 92X RDO Or Beretta M9A4
The Beretta 92X RDO or the Beretta M9A4 are factory optic ready M9 series pistols. Simply get the plate and install them as shown below:
As the content creator of badassoptic.com, My background in the firearms industry and shooting sports gives me the experience to recommend tried and true products and keep away subpar ones.