Glock 19 Optics Cut Slide [Top 8 Products]
Tired of the factory Glock 19 slide? If you want something a little more custom, this guide goes over the 8 best Glock 19 optics cut slides you can buy online.
We picked these red dot ready slides based on looks, weight, and overall functionality to build the dream Glock you want.
For Glock 19C (compensated) - Must use slide with open top window cut that MUST CLEARS the barrel ports
Note: Some slides may not perfect fit the holster made for the factory slide profile.
Best Glock 19 Red Dot Slide
Strike Industry has been making some very innovative gun parts in the recent years. The LITESLIDE aftermarket Glock 19 red dot slide is machined with optimal accuracy and performance in mind. It's an affordable slide upgrade for the factory G19 pistol.
Faster Follow Up - Lighter slide than the factory one to reduce recoil momentum to reacquire the sight
Serrated Slide - Just like other aftermarket G19 slides to aid slide manipulation
All Kits Included - All necessary screws and posts included for most optics
Better Optics Compatibility - RMR, Burris FastFire 3, C MORE RTS/STS, Doctor, EOTECH MRD, Holosun 507C, DeltaPoint (Non pro version) Sig ROMEO 1, Swampfox Kingslayer/Liberty/Justice, Vortex Viper/ Venom
Tons of optic options
Cycles smoothly using standard 115gr 9mm
Affordable for most G19 users
Serration pattern could be more aggressive
Lantac Razorback has that unique slide cuts that looks and feel less like a 2 X 4.
The slide is machined from pre-hardened (H900 condition) 17-4PH (Precipitation Hargened) stainless steel. Then it's bead blasted to create a satin surface finish. Finally the slide is coated with a protective layer with proprietary Lithium-Ferro process.
The slide is made for an RMR for Gen 1-3 or Gen 4 Glock 19. There are slide lightening cuts available
Very slick serration pattern
Nice finish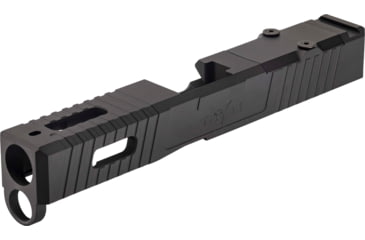 TRYBE defense products are hot selling and their Glock optic ready slides have more definition than Brownell's product we have listed below.
Gen 3, 4 and 5 - Multiple slides available for Glock gen 3, 4 and 5.
Cover Plate Included - All optic ready slides come with cover plates
Show Off Barrel - Side windows shows off the slick custom barrel you have
Lightening Cuts - Improved for fast cycling and aggressive serration under $300
Better Optics Compatibility - RMR, Vortex Viper, Venom, DeltaPoint Pro
*Get a TRYBE Defense threaded match grade barrel here
Great design for a good price
Serrated slide
Includes optic plates
Mount more than just RMR
Comes with no iron sights
The CMC Kragos Glock 19 slide has similar features as the Lantac, but with a more aggressive angled slide serration for better grips for press check or slide racking.
Prevents Snag - 45 Degree chamfer edge makes in and out of the holster much smoother
Works With Factory Parts - The KRAGOS accepts factory or aftermarket barrels and parts. It's a great upgrade piece to get for a stock Glock 19 with existing components.
Optics Compatibility - RMR footprint only
Very easy to perform press check
Slick serration pattern
Primary Machine offers several aftermarket Glock slides mostly for Trijicon RMR/SRO or Holosun 507C. The slide cut pattern is very minimum without super aggressive press check serration on the front of the slide.
This slide is basically a more slick looking version of the factory slide with lightening cuts to reduce the slide weight & Cerakote to keep the surface long lasting.
Optics Compatibility - RMR footprint only
Unique slide front cut
Window shows the internal barrel
Smooth cycling
Comes with cover plate
ZEV is the Lamborghini custom match grade Glock slide upgrade. The same slide is used on their factory complete OZ9C 9mm pistol.
The company offers many G19 slides for Gen 4 and Gen 5. The slide cut is very similar to other products we have listed above, but one thing that stands out is the angle of the serration & slide channels on the top of the slide to reduce glare to maintain sight picture. (It's not a necessary feature to have, but it's nice that it's there).
Channel liner comes installed in all Glock compatible slides
Optics Compatibility - RMR footprint only
Good price for the brand
Angled serration cuts for better grip
Comes with cover plate
Agency Arms was the original custom slide maker that people remember back in the day. Agency Arms first come up with custom Glock builds that went popular online with that signature "A" milled on the side of the slide.
Use Different Optics - The AOS system allows different optic plate with screw index posts to mount on the slide for different footprint red dot sights other than the Trijicon RMR.
More Secure Optic Mount - Screw index posts lock in the optic tight, which gives the thread more room & depth to secure the optic
For the most part, Agency Arms Glock slides are like ZEV products. They are collection worth and great looking gun parts for users with disposable income.
If you want more optic choices besides the RMR, go with the Agency Arms over ZEV.
AOS Optics Compatibility - RMR, DeltaPoint Pro, Vortex Viper, Aimpoint ACRO, Holosun 509T
Very innovative optic plate system
More optic choices
Brownells Glock 19 RMR slide are for Gen 3 models for Trijicon RMR and Holosun 507C optics. The cocking serrations are very simple like the Primary Arms. The pattern pretty much follows the existing serration on the factory slide.
CNC Index Posts - It helps secure the RMR even more to hold zero
Brownells offers stainless nitride fully enclosed slide and the one with lightening cut. All factory or aftermarket barrel and internal parts work on this slide.
Optics Compatibility - RMR footprint only (Check out RMR footprint optics here)
Very affordable
Offers long slide that fits G19 frame
CNC index post makes RMR mounting more secure
Only for RMR
May not fit your Kydex holster