Here are the best handgun laser sights featuring green or red aiming lasers.
A high-quality laser sight also helps new shooter to train finger control, and provide aiming assist in improvised shooting positions.
Green laser is the best for visibility in all lighting conditions, but they are slightly more expensive than the common red lasers. Both work and let's check out what we have on this list.
$20 Off Orders $200+. Use Code DEC20
$55 Off Orders $500+. Use Code DEC55
$120 Off Orders $1000+. Use Code DEC120
Best Laser Sight For Compact Pistol
Disclosure: All products have affiliate links for earning commission to support the website when you purchase
High Lumen Light - This laser and light combo is perfect for personal defense. It features the most powerful green laser gun sight on the market
Built In Camera - Records muzzle POV video
Built-In Strobe - Increased high-intensity strobe light for dark environments as well as giving the aggressor nowhere to hide
Compact Size For Carrying - Reduced the weight burden and carry it on you longer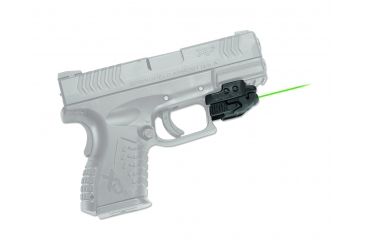 Fast Activation - This thing features the best activation switch upon gripping the gun even for the clumsiest person. If you are looking for the best red dot laser for a pistol, this is one of the options.
Rail Mount Or Grip Panel - Crimson Trace also makes grip panel laser module for guns without railed mounting slots
Programmable Laser Control - Customize among 4 operational modes including laser with a strobe light, included Auto Shut Off feature to conserve battery life
Same Powerful Laser as X5L But Smaller - Even in a smaller size than the X5L Gen 2 for subcompact handguns, using only one CR2 battery for over 4+ hours constant on and projects 5 mW green laser up to 100 yards in daylight and 2 miles at night
Powerful White Light For Darkness - Ready for any lighting condition, the included 100 lumens constant on and 140-lumen light keeps you operational in the dark as well as keeping your enemy scared of you for personal defense
Now Ready With A Green Laser - The hottest selling product from Streamlight, powered by 2 3V CR123A lithium batteries, instantly attach to any handgun rail mounts in seconds to be rated as the most intense bright, virtually indestructible tactical light and laser combo
Works For Lefties & Righties - Easily access the activation switch with the ambidextrous momentary switches from both sides to instantly light up the target and engage
---
FAQ
Handgun Laser Sight Pros and Cons
Here are the pros and cons of a handgun laser sight:
Pros
Instantly place laser on the target without fixed sights [CQB only]
Aim without sight if laser dot is visible
Great dry firing training for steady trigger squeeze
Cons
A dead battery will cause a malfunction
Not for long range aiming
The green laser is expensive
Require custom made holster
Offset holdover training
Use For Improvised Shooting Positions
Whether you're a policeman, military or every day conceal-carry users, shooting accurately in improvised shooting positions is important in self-defense situations and laser sight is here to help.
If you're shooting on the move, run or on the ground trying to get back up. You will not always use your fixed sights in a reactive situation.
Once the laser is on, just aim and shoot and a majority of shooters have reported that they placed a more accurate shot group on the target with the laser assist.
Constant Offset Zero
The best zeroing technique for a firearm laser sight is to use constant offset zero. The reason is that the laser shoots straight, but bullet path drops. So a constant offset zero ensures the laser is not intersecting the bullet path and diverge completely off course.
You can use a laser bore sight in conjunction to zero your laser.
Activate Laser Without Fumbling
Learn how to activate the laser consistently without fumbling takes practice. The easiest option is the Crimson Trace's Instinctive Activation technology to turn on automatically upon picking up the weapon.
Laser Sight Helps Beginner Learn Faster
In a learning environment, new shooters can master their grip, aim and trigger control by watching how much the laser is moving on target.
Very often students get immediate feedback and understanding on how poor trigger control can throw off a shot in the distance.
This showing them how the smallest amount of jerking movement affects accuracy.