Building a 10.3" MK18 is always alot of fun with limitless AR accessories to choose from. Do you know which core components to get?
In this ultimate build guide, we put together a best MK18 parts list for anyone building a SBR (NFA) or a pistol (non-NFA). It includes everything so you don't have to look anywhere else on the internet.
For around approximately $1500, you can build a bad ass MK18 with exact parts you want, and you can upgrade it even more later.
Let's check them out...
Top 22 Parts To Make A MK18 Clone
For MK18 pistol builders, voiding NFA headaches by getting a pistol brace:
SB Tactical SBA3
Maxim Defense
Warning: Do not modify pistol brace configuration
The receiver brand doesn't really matter as long as it's from a reputable manufacturer and has proper Mil-Spec dimensions.
Most receivers are made at the same factory (Contiental Machine Tool) as any others, the difference is that the brand logo determines the price you pay. Please check out our upper receiver guide for more info.
Tip: You can tell where it is made by looking at the stamp on the receiver
Our favorites upper & lower receivers:
Rock River Receiver
Aero Precision
Spike Tactical
BCM
If brand value is important to you, these are people's favorite:
You can mix and match !
Upper Receiver
Daniel Defense MK18 Build
The Daniel Defense MK18 is the official MK18 maker, and their rifles are adopted by the US spec ops in the global war on terror.
You can buy it or you can build it.
Easiest Option - Buy a Daniel Defense MK18 factory upper
Or purchase the factory MK18 pistol. (Local FFL Transfer Required)
The best thing that makes a DD MK18 is the unique RIS II quad rail, and there is no similar product on the market today:
If you want a legit DD MK18 specs ops are using the Daniel Defense RIS II rail is a must have handguard for your AR build.
DD RIS II Rail - The Real Deal!
Battle proven 6 bolt bolt-up system securely attaches the handguard to the upper receiver
2 piece design accepts M203 grenade launcher without additional parts
Seriously made for war
6061 T6 aluminum, durable & lightweight
Free float system, increases accuracy
Continous top rail
Iron sights are great, but adding an optic transform the MK18 into a serious combat machine! please check out our red dot sight guide or the LPVO guide for more information.
Common FAQs
Difference Between MK18 MOD 0 & 1
The MK18 MOD 0 development all started with a basic M4A1.
First it was just a shorter barrel, then it was the CQBR upgrades that added a larger gas port for better cycling, improved buffer system that are optimized for each ammo type.
Finally the MK18 Mod 1 is born, similar to the SOPMOD Block II, now the rifle has plenty of rail space for mounting accessories thanks to the free float RIS II handguard.
Basically...
No front sight
Full length rail extends all the way to the base of the flashhider to have more rail real estate.
...and that's the most modern MK18 configuration exists today.
Which one you like the most, build that one!
You can go as expensive as you want, or go conservative, and the best part is you can always come back and tweak it.
MK18 MOD 0 Build
The most significant differences the MOD 0 has over other MK18 configuration is the upper and the buffer system.
The upper is basically a shorter verison of the M4A1 with FSB flattop KAC RAS rail, larger gas port, and NT4 muzzle device.
The lower receiver For anyone that love the traditional M4A1 with the delta ring, KAC RAS Rail, and A2 front sight post, then MOD 0 is it.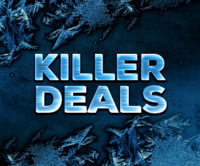 Shop Over 400,000 Products For Your Passion & Profession
from: OpticsPlanet, Inc
MK18 CQBR Block 1
The MK18 CQBR uses surplus M16A1 lowers SOPMOD MK18 Build MK18 Stock Options (SBR vs Pistol)
For legal NFA SBR builders, they can put any stock on the rifle as long as your get your ATF form 1 or form 4 approval, and our favorites are:
VLTOR CQBR Stock
Magpul UBR
BCM
Magpul MOE CTR