6 Best Optic Mounts For DeltaPoint Pro
Check out these 6 best optic mounts for Leupold DeltaPoint Pro for rifle applications.
Primary Optic Mount
Disclosure: All products have affiliate links for earning commission to support the website when you purchase
Check Leupold DeltaPoint Pro Price Here
Leupold brand AR picatinny is the simplest mount you can get to mount the DeltaPoint Pro on any rifle platform with top picatinny rail.
Easy Installation - Just a simple hex screw clamp mount (Not QD)
Lightweight - Ideal for a basic matte coated finish looking mount for the Leupold DeltaPoint Pro made with lightweight aerospace grade material
Solid DPP Mount - Precision machined to lock up with DeltaPoint Pro's footprint
Weighs ONLY 2 oz
1 Height to choose from:
1.72" (slightly higher than 1/3rd CoWitness)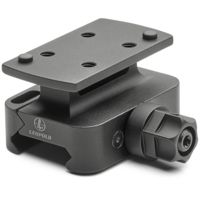 Just like the basic Leupold DPP mount recommended above but this has a quick thumb release mount where your hand can grab and turn.
No tools required in the field.
It's 2.3 oz, 0.3 oz heavier than the one above
Referenced American Defense
This low QD mount works for mounting on shotguns or rifle platform with a cheekweld position lower than the top rail such as an AK rifle.
Get them here:
---
These great guys at Trex Arms provide tons of online training and they're definitely the top dog in the industry, and they have their Trex brand cant optic mount for the DeltaPoint Pro with a riser plate 1.57" tall for:
LPVO use
Night vision
Shooting prone
Gas mask wearing
Shooting around corners
Better recoil management
Fits all standard M1913 picatinny rails. It's not QD, so pick this mount over the American Defense QD mount if you want a snag free setup, and you're not planning on constantly swapping optics.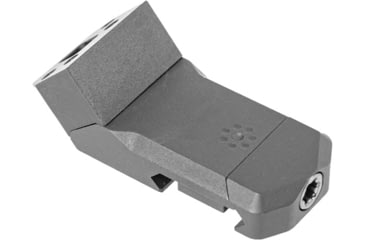 Arisaka Defense offset optic mount is designed to be modular for some of the top micro red dot sights on 35 degrees and 45 degrees.
It's similar to the Trex Arms product above.
35 degree tucks in the optic more as well as lining up the bore based on the rifle
In addition, the user can pick different base heights to tailor the co-witness setup to what the shooter needs.
You need the base mount and the DPP specific plate, and you can get the DPP plate here.
The Valhalla Tactical RUKH is the world's first adjustable pitch and height offset angled mount for the DeltaPoint Pro as well as other top micro red dots
Better adjustable cheek weld height
Faster transition speed
Pivot it to your liking
Align bore axis and POI (Point of Impact)
Height and scope of your rifle.
Works for cross eye dominant shooters if used at the right angle
The user can tuck the optic closer to the scope, and it pivot it out or reverse direction if needed to optimize the setup.
As the content creator of badassoptic.com, My background in the firearms industry and shooting sports gives me the experience to recommend tried and true products and keep away subpar ones.