Glock 43's shooting performance can be further improved with a couple of upgrades. Here are the 4 best Glock 43 compensators to reduce muzzle flip while using standard 115 gr 9mm or +P ammo.
Top Glock 43 Compensators
Disclosure: All products have affiliate links for earning commission to support the website when you purchase
This Herrington Arms 6061 Aluminum Black Cerakoted HC43 compensator helps to reduce muzzle flip by about 10 - 30%. It works for Gen 5 Glock 43/43x/48 variants with 1/2-28 barrels and standard recoil spring.
Not all compensators can achieve the same performance unless they are well-engineered like this one.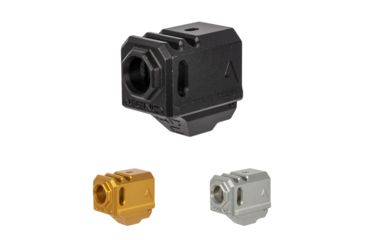 The Agency Arms 417C (3AF-BCM-417C-417-G43-BLK) works with OEM spring guide and features dual vertical gas ports and side ports to reduce muzzle flip especially for heavier charged ammunition.
The compensator also features iron sight to increase the overall sight radius and faster sight acquisition after each shot if not using a red dot sight.
Other than its slick machining, the Agency Arms makes very high end firearm accessories that you will not disappoint.
The EXOS 533 (FF-P-A-COMP-SS-G-02) reduces muzzle flip the same way as other products, but a little bit more due to its special angled ports, which allow gas to deflect upwards as opposed to only deflecting sideways.
This single port muzzle brake provides consistent muzzle movement and reliability.
The compensator works best on barrels that protrudes .600" or less for a flush fit.
The SUAREZ Street comp (SI-STRTCMP-G4-BLK) is similar to the Faxon 533, but this is the single chamber comp with very simple machining that match the factory slide profile.
The compensator mounts the same way as the Faxon with setscrews to secure it on the barrel.
Overall, this is the lowest cost Glock 43 compensator option on our list.
FAQ
Is A Threaded Barrel Required?
Yes, a threaded Glock 43 barrel is required to mount a compensator.
Does A Compensator Reduce Muzzle Flip?
A well engineered compensator can reduce muzzle flip on a Glock 43, and it allows the sight picture to stay as flat as possible. This is helpful when shooting Glock 43 with a red dot.
However, different compensator may yield difference performance based on ammo type.
Generally speaking, a compensator can cut down ~10 - 30% muzzle flip while using heavier charged ammo. Sometimes the difference is hard to tell when shooting standard 115gr 9mm.
Is Recoil Spring Tuning Required?
Recoil spring requires tuning if your particular Glock 43 is getting far away from it's factory state.
This means using aftermarket Glock 43 slide with significant weight reduction, shooting different ammo type, trigger group modifications and others.
There is no one size fits all approach to recoil spring tuning unless specific performance tests are done.