Here are the 4 best Sig P365 compensators to reduce vertical and horizontal recoil and muzzle flip while using most factory loaded ammunition in 115 gr 9mm or +P ammo.
This can be used on a stock gun or a custom build P365.
Best P365 Compensator Upgrades
Disclosure: All products have affiliate links for earning commission to support the website when you purchase
This Herrington Arms 6061 Aluminum Black Cerakoted HC365 P365 compensator works on standard 365 or 365XL to to reduce muzzle flip by about 10 - 30%.
Not all compensators can achieve the same performance unless they are well-engineered like this one.
A threaded barrel is required, we found the best one from True Precision Barrel
This is the Parker Mountain Machine's proprietary Sig P365 threaded barrel and compensator upgrade (P365XL-JTTCBC-MCRO-BLK)
The compensator perfectly times with the Sig Sauer P365 slide and it uses a single port at the 12 O'clock position to maximize the effectiveness of the compensator when using standard or a little hotter 9mm ammo.
Works well when using Icarus Precision ACE 365 grip module with trigger guard under cut for better recoil control and grip.
Overall, this P365 compensator greatly reduce vertical muzzle flip and allows the slide to track faster and more accurately for follow up shots (Also means faster red dot acquisition)
Check out PMM's ammo test chart on their homepage below:
The EXOS 525 9mm compensator (FFMA11-816341026223) reduces muzzle flip the same way as other recoil reduction P365 compensator products, but a little bit more thanks to the angled ports, which allow gas to deflect upwards as opposed to only deflecting sideways to reduce vertical climb and minimize horizontal recoil arc
This single port muzzle brake provides consistent muzzle movement and reliability.
The barrel protrusion fit flush with the slide, and it works the best with a Faxon barrel combo with 1/2x28 threading.
For other barrels, please make sure they protrude about .600 or less for a flush fit.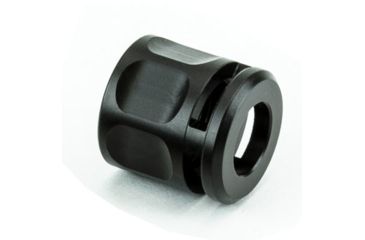 The Griffin Armament P365 Micro compensator (GA042D-GAMCC1228S) works on many 1/2X28 pitch threaded 9mm barrels right out of the stock without the need of any proprietary barrel. It's a super short and low profile compensator that works the best for subcompact guns with factory Sig Sauer P365 recoil spring.
It's small profile clears the muzzle through most open ended P365 holster, so no problem there!
The best part of this comp is that it doesn't require timing, just torque it to 8 ft-lb to secure the installation.
FAQ
Is A Threaded Barrel Required?
Yes, a threaded Sig P365 barrel is required to mount a compensator.
Other Accessories
There are tons of P365 products available. Click here to see more
As the content creator of badassoptic.com, My background in the firearms industry and shooting sports gives me the experience to recommend tried and true products and keep away subpar ones.