In this guide, lets check out the 5 best CZ Scorpion trigger upgrade kits you can buy today to reduce shooting split time. Some requires a bit of work to install and others are super easy to install.
For shooters who want to reduce their split time with the CZ EVO,
Let's check out what we have...
Best CZ EVO Trigger Upgrade Kits
HBI - Most Affordable
They offer three different triggers in different colors:
• The flat Theta Stock - Same pull length as the stock trigger
• Theta Forward - Increased leverage
• Curved Delta trigger
As far as feel goes, the Theta forward works pretty good and a bit more comfortable.
Works for
Evo S1
Evo S2 Micro
Franklin Armory Binary Trigger
The front serrations provide tons of traction when wearing gloves in cold weather conditions and, at the same time, is accessible on the finger when not wearing gloves.
Shooter's Element
With the improved ergonomics and add leverage of the trigger, we see anywhere from a 7 to 10 % reduction in pull weight with just the trigger, we're also noticing an improvement in the second most common issue on the gun, the strong side safety digging into a shooters hand.
Why Pick Timney Trigger - This new trigger pack features a preset and trigger pull weight of 2.75 to 3.75 lbs that provides the shooter fast / smooth trigger action desired for fast follow up shots.
Timney has been making tons of trigger upgrades for various firearms from bolt action to semi auto in the past 70+ years, and this drop in trigger kit is the best compared to any other ones on the market today in terms of ease of installation and performance.
The core components of the trigger such as the hammer and trigger shoe are precision machined, heat treated to 56 Rockwell c with a black oxide trigger coating. In addition, the hammer is NP-3 rated with maximum lubricity and a lifetime of reliable performance back by Timney's lifetime warranty.
Everything is assembled in one package, just drop it without any messy trigger work like other trigger packs in the market and you are ready to go.
With countless accessories and attachments available for the CZ Scorpion, the Timney Trigger is the latest upgrade to this very popular gun.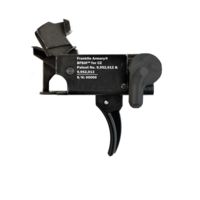 Why Use A Binary Trigger - Want the experience of almost full auto without all the NFA headache? the binary trigger mimicks that legally
1 Trigger Pull 2 Shots - Fire one round on pull and the 2nd shot upon trigger release to reduce split times between rounds
Better Shot Groups - Tighter groups when shooting two rounds at a time
3 Position Safety - Safe, Semi & Binary. Almost like a full auto CZ EVO
CZ Scorpion Trigger Upgrade Tips
Most of the aftermarket CZ Scorpion triggers change the pull weight by changing the geometry and length of pull of the trigger.
They will do nothing regarding the pre-travel or the over-travel, and its something that can't be eliminated entirely either.
If changing the trigger shoe improves your trigger performance, please check out the Nelson Precision, HBI, and Shooter's Element. Out of all these options, the flat trigger bow is recommended for high-speed shooting.
As the content creator of badassoptic.com, My background in the firearms industry and shooting sports gives me the experience to recommend tried and true products and keep away subpar ones.