Here are the 3 best Glock 34 complete slides to change up the looks of your Glock 34 and mount optics.
We picked these red dot ready slides based on looks, weight, and overall functionality to build the dream Glock 34 you want.
Best Glock 34 Complete Slides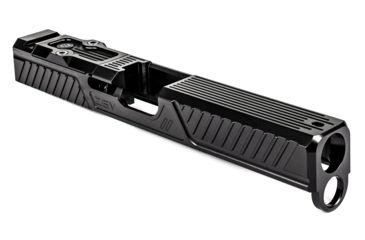 Zaffiri Precision RTS Glock 34 slides have significant weight reduction to make the gun cycle as fast as possible. The slide is coated with cerakote to endure surface finish
The only thing missing is aggressive serration cuts on the front of the slide.
The RTS stands for ready to ship. Buyers can pick up these slides without any wait time.
Better Optics Compatibility - All RMR footprint optics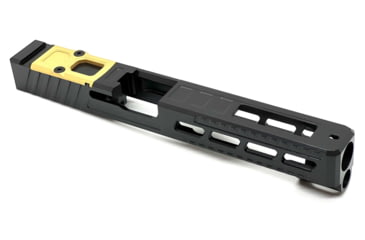 Spinta Precision Glock 34 slide is another great choice just like the Zaffiri Precision RTS, but this one features more serration cuts for better slide racking performance.
Available For Gen 3 - Fits Glock 17, Glock 22 and Glock 34 frames
Cover Plate Included - Cover plate is included but not iron sights
Lightening & Serration Cuts - Patterned window cuts long the slide to show off the barrel inside without compromising slide ruggedness
Better Optics Compatibility - RMR only
The Dynamic Weapon Solutions MRK III Reaper Glock 34 slide is only available for Gen 3 Glock frame. This works to convert any full size Glock 17, 22 to a long barrel Glock 34.
Aggressive Serrations - Top, front, rear and side serrations
Cover Plated Included - Cover plate with screws are included
Finish - Customer color requires additional lead time
Better Optics Compatibility - All RMR footprint optics
Glock 34 Slide Milling Options
If you would like to customize your factory Glock 34 Gen 3 slide to get milled for an optic, here are our recommendations:
As the content creator of badassoptic.com, My background in the firearms industry and shooting sports gives me the experience to recommend tried and true products and keep away subpar ones.