Here are the 4 best P320 compensator upgrades that effectively reduce both vertical and horizontal recoil while facilitating faster follow-up with your red dot sight. These accessories are among the best additions for enhancing your Sig P320 shooting experience.
Must use with a threaded barrel, Check them out here
Disclosure: All products have affiliate links for earning commission to support the website when you purchase
---
Caliber: 9mm
Thread Pitch: 1/2X28
Weight: 1.9 - 2.1oz
Length: 36.8mm
The Killer Innovations Velocity outperforms other Sig Sauer P320 Compensators by featuring a robust mounting system. It goes beyond merely applying barrel thread torque with set screws.
It looks fantastic on the P320, the fixed screws are excellent, and it ensures a proper fit to achieve that sleek compensator appearance on the slide. I encountered no problems with the product, and I highly recommend it if you're aiming to enhance the aesthetics of your build.
It enhances your shooting experience with faster red dot sight picture, reducing muzzle rise for quicker red dot reacquisition, faster follow-up shots, and improved recoil control.
Achieving Improved Accuracy, it maintains an even air gap, resulting in greater bullet precision and reduced vertical and horizontal recoil.
Installation is a breeze - simply tighten the locking ring. Note that set screws still require a tool for tightening.
For convenience, it offers a Fast Detach feature, allowing for easy removal during concealed carry and quick reattachment when needed.
You should be able to securely attach the Killer Innovations Sig P320 Compensator to your Sig P320 4.3 threaded barrel using the provided lock system. However, it's advisable to use the included blue loctite during installation for added security.
Greatly reduce horizontal recoil arc
Quick detach without tool
Locking ring prevents compensator tilt
9mm only for now
Set screws still need tools to install
Caliber: 9mm
Thread Pitch: 1/2X28
Griffin ATM™ (Advanced Threaded Match) Barrels are precision machined from 416R chromium stainless steel to ensure a perfect fit. The 5-axis machining maintains critical dimensions on the breech, ensuring an ideal geometric relationship between the barrel, slide, and locking lug.
This barrel looks amazing, and the finish exceeded my expectations. It's an excellent quality drop-in part! It fits perfectly in my P320C RX and cycles flawlessly with zero malfunctions. The Barrel and Compensator fit perfectly and seamlessly integrate into my P320.
Simple Installation - Simply tighten it securely, and you're good to go. Its three ports don't require precise timing alignment.
Shorter Split Time - You can shoot faster follow-up shots with precision by reducing vertical recoil, enabling quicker target reacquisition.
Compact for Concealed Carry - It's designed with concealed carry users in mind, this barrel provides accessory and suppressor support while maintaining uncompromising reliability.
No Blinding Effects - The muzzle flash won't blind the shooter, even in low-light conditions.
Effortless Installation - Secure the compensator using a flat wrench and torque it to 8 ft-lb.
Reduce muzzle rise
Very short for a compact slide
Fits through most open ended holsters
No timing alignment required
Caliber: 9mm
Thread Pitch: 1/2X28
This is either a single chamber or two chamber Sig P320 compensator to reduce vertical climb (Use with Agency Arms P320 slide). What's special among others is that the front iron sight can be mounted on the comp instead of the slide for a slightly longer sight radius.
Offset Length - Turns into full size length on a compact length slide.
Tucks In The Frame - Mount this on a compact P320 and the comp fits within the full size frame
Works With Hotter 9mm Loads - Slide cycles with 115gr bullet, but it also works better with heavier charged ammo
Reducing vertical climb and felt recoil
Front sight post can be installed on the comp
Work with most standard 115 gr 9mm
Not compatible with conversion barrels
Recoil spring fine tune required
Held on by set screws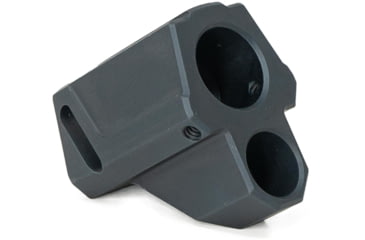 Caliber: 9mm
Thread Pitch: 1/2X28
Weight: 0.8 oz
Length: 27.94mm
Faxon Firearms Pistol Compensators have been tested and confirmed to be compatible with SIG P320 Full-Size pistols. While not specifically tested on the SIG P320 Compact/Carry model, they are likely compatible.
It's important to note that compensators can impact the timing of your pistol and may require adjustments to lubrication, ammunition, and other factors. Compatibility with pistols or generations other than the SIG P320 Full-Size pistol cannot be guaranteed.
For other barrels, the barrel should protrude no more than .600 for a flush fit. Each compensator includes thread locker, two 6-32 set screws, and a 1/16 Allen wrench.
Deflect Gas Upward - Angled side gas ports further reduce muzzle flip and enhance reliability.
Matches P320 Slide Cross Section - Fits perfectly in existing open-ended holsters.
Flat Shooting - Significantly reduced muzzle rise compared to a non-compensated 9mm P320.
Fast Red Dot Follow Up - The red dot quickly returns to the shooter's field of view after each shot.
Works with most threaded 9mm barrels
Works for many popular gun models
Super lightweight
Greatly reduce vertical muzzle flip
Set screws can get loose
Timing alignment required
---
Other Recommendations
If you're interesting in upgrading your P320 slides, please check out these optic ready ones right out of the box. No wait
New Sig P320 Spectre Comp
The Sig Sauer factory-built P320 Spectre Comp elevates the standard P320 design to new heights. With a Custom Works-designed compensator that decreases muzzle flip by more than one-third, it offers a shooting experience that is unparalleled straight out of the package.
Furthermore, it includes distinctive laser-engraved grip modules, TiN gold barrels and triggers, and specially crafted slides.
Check it out here