In this Aimpoint 3X-C magnifier review guide, let's take a look at its core specs, glass quality, durability and overall feel.
Let's see if this goes well with your setup.
Core Specs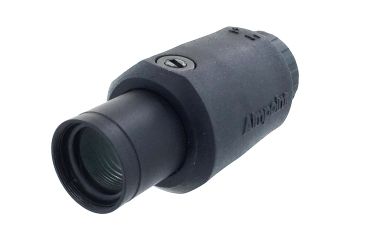 Magnification - 3X
Objective Lens Diameter - 24mm
Eye Relief - 2.2"
Exit Pupil - 0.25"
Mount Type - QD (non 30mm ring)
Diopter Adjustment - +/- 2.0

Angular FOV - 6 deg
Linear FOV - 37ft @ 100 yrds
Dimension - 4.1" X 1.8" X 1.8"

Weight - 7.8 oz (No mount)
Unboxing
Aimpoint ships the product in a very simple packaging.
Initial Impression
Overall, the magnifier is well made just like any other Aimpoint products. It's simple 30mm tube that requires a ring clamp mount.
This magnifier scope is for tactical shooters, plinkers and hunters.
For this review, we installed it on the Unity Tactical FTC magnifier mount.
Main Applications
Mid - Long Range
Extends 1X to 3X in no time for:
Better target ID

Finer aim

Better zeroing
Shooters with astigmatic eye can finally see a much clearer and rounder dot (as long as the diopter ring is properly adjusted relative to the shooter's vision)
CQB
Just tuck the 3X magnifier away and resume to 1X red dot.
Finer Zeroing Process
Finer red dot zero when your reticle is magnified for a better view
Magnification & Glass Quality
The glass quality is superb. We can tell by the edge to edge clarity, no fisheye effect and no tint shown below:
The diopter is adjustable to focus the image relative to the shooter's eyesight, and it's also very easy to dial with minimum stiffness.
The 4X magnification is not much different than a 3X magnifier, and it's is a great tool for positive target identification during the day and night.
As long as the diopter ring is adjusted relative to the shooter's eye sight, it's good to go!
Eye Relief
The eye relief distance is pretty standard as other magnifiers.
Just bring the optic to the eye and aim. Its slim outer body that doesn't obscure the view. The shooter still needs to place the eye inside the eye box, and keep centered as much as possible. Otherwise the scope shadow will occur.
Move a bit back, or move a bit forward will not induce too much scope shadow.
Overall Build Quality
The construction feels very solid.
The entire body is anodized to make it durable and corrosion-resistant.
Magnifier tucked to the right
The overall size is longer than these popular Vortex Micro 3X magnifiers on the market.
It will be interesting to see when will Aimpoint release a much more compact 3X model in the future.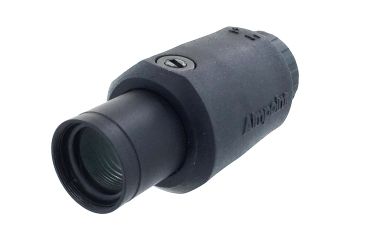 Final Verdict
Pros
Much cheaper than the original Aimpoint 3X
Clean glass without any tint
Durable
Works with Unity Tactical FTC 30mm ring mount
Non stiff diopter adjustment ring
Cons
See other similar 3X magnifiers: Vortex Micro 3X
As the content creator of badassoptic.com, My background in the firearms industry and shooting sports gives me the experience to recommend tried and true products and keep away subpar ones.