Looking for the best weapon lights for the HK VP9? This buyer's guide will show you all the great products people trust mounting on their VP9.
Without wasting your time here they are:
Getting a trusted pistol weapon light is one of the best HK VP9 rail accessories to buy for home defense and taking it to a low light class. So getting one of those will guarantee you won't disappoint.
We promise it's not gonna be the same old stuff you have already seen over and over again.
Let's check them out…
NOTE: Whichever weapon light you get, you might have to get a brand new holster for it.
---
5 Best Weapon Lights For HK VP9
Disclosure: All products have affiliate links for earning commission to support the website when you purchase
PREVIEW
vid
FEATURES
CLICK FOR BEST PRICE

BEST COMPACT SIZE





STREAMLIGHT TLR-7

 [500 Lumen]

Intensity

: 500 Lumen C

oncentrated Beam

, Up to 130 Meter

Battery

: CR123A / 1.5 hrs

Benefits

: Weighs 2.4 oz, Ambidextrous for L & R handed shooters, Snag FREE, 100% flush with Full size VP9

CLICK FOR BEST PRICE

BEST FOR THE MONEY & PERFORMANCE





INFORCE APLc

Intensity

: 200 Lumen white light

Battery:

1 CR2

Benefits

:

Textured paddles for optimal non-slip grip, Mounts completely flush with muzzle of VP9 Full Size

CLICK FOR BEST PRICE

BEST OVERALL





SUREFIRE X300 ULTRA B


IR VERSION: Shop Here

Intensity

: 1000 Lumen

MaxVision

Battery:

2 CR123A

Benefits

: World's best MIL-SPEC weapon light built for war, Non-lethal i

ntense light beam to blind threats

CLICK FOR BEST PRICE

SMALLEST SIZE





VIRIDIAN CTL C5

Intensity

: 140 Lumen

CREE LED

+ Strobe

Battery

: 1 CR2, 1.5 hrs

Benefits

:

 Explosive strobe deters aggressors instantly, ECR function works with TacLoc Holsters

CLICK FOR BEST PRICE

BEST STROBE FEATURE





SUREFIRE MASTERFIRE XH35

Intensity

: 300 - 1000 Lumen MaxVision (2 Modes) + Strobe

Battery:

2 CR123A

Benefits

: Upgraded from X300 with more advanced light mode,

Choose between 1K or 300 lumens

CLICK FOR BEST PRICE
---
If you got to pick the best one, pick this – The SF X300U is the godfather of pistol weapon light. It's been around the longest for being the toughest weapon light on the planet.
It's used by the military, law enforcement, and civilians, and when you pick the Surefire X300U, you made a very good choice.
1000 lumens
11300 candela
TIR lens
Aerospace grade aluminum
2 CR123A batteries
Rail lock mounting system
Goes right on the VP9 no mod rail required– It's probably one of the best to go with the HK VP9, just slap it on without any modification. Unlike other older HK guns without mounting rail.
NEW Olight Odin Mini 1250 Lumens + Lockable Pressure Switch 
The light does stick out a lot on the VP9, but it will sit flush with the muzzle if you have a threaded barrel or compensator.
Powerful candela – The X300 ultra model produces up to 1000 lumens using its LED precision TIR lens (2 CR123A batteries). The high candela rating makes it great for positively identifying threats at significant safe distances while temporarily impairing an adversary's vision, and also burn through photonic barriers.
Built to withstand abuse – Built with mil-spec grade aluminum housing, you can beat this thing up as much as you like and it will still work (not recommend beating it up for no reason)
The X300U-B is the same as the X300U-A but with a T-slot mounting design, which allows the user to adjust the tension on the mount even if the polymer frame rail starts to wear out.
MSRP: $299
Best known price $269, at OpticsPlanet
or buy from Amazon
---
Why we pick XH30 over 35 – The Surefire XH35 & XH30 has a similar body profile as the X300, but the unique features of the XH series light that the X300 doesn't have is the disorienting strobe mode & toggle between 300 lumens and 1000 lumens.
1,000 blinding lumens for lighting up the environment in the dark & blind threats, and 300 lumen if less brightness is desired for close proximity indoor use.
Pick XH30 – If you had to pick between the two, definitely pick the XH30 over the XH35 because XH30 has high candela for higher intensity beam spot.
For self-defense, you want high candela ratings, so the beam is intense enough to penetrate through ambient light as well as blinding a threat from a longer distance.
XH30 is more like a X300U – The XH35 TIR lens project the light beam wider than the X300, so a larger area of the surrounding will be illuminated without a noticeable hot center spot, which is NOT what we want for the defensive type of use.
NOTE: If you already have a holster for the X300, the XH35/30 will not fit due to the difference on the front lens.
MSRP: $299
Best known price $269, at OpticsPlanet
or buy from Amazon
---
The Olight PL Pro is new and they are definitely catching up to the competition by introducing never before seen technologies to make a pistol weapon more powerful and modern.
300-1500 lumens
19600 candela
QD lever mount
IPX6
3.25 oz
Why this is the hottest selling product – The PL Pro feels very similar to the Surefire X300U and it features USB rechargeable battery design, where the user can save tons of money buying CR123A batteries.
You can check out the X300U and PL Pro comparison on our site.
Highest Lumen & Candela – The PL Pro has about 1500 lumens and 19600 candela with up to 280 meters of throw in pitch black environment, this is great for home defense and night class training.
The controls on the Olight includes
constant on
momentary
strobe
That can be used from both sides.
However, the electronic push button senses how long you have pushed the button, and then it performs the correct function.
This is inferior to the rocker type switch because there is a delay, and you can't just do a quick tap for momentary-on, and you have to hold it. This slows you down and could potentially affect motor skills during stressful situations.
MSRP: $129.95
Use Code: OLIGHTSTORE10 for 10% OFF on OLIGHT USA
Or buy on Amazon
---
Why this is the hottest selling – The Streamlight TLR 7 is the best compact light for the money from Streamlight. Looks great and works great!
500 Lumens
5000 Candela
1 CR123A battery
2.4 oz
The TLR 7 flush fits perfectly on the full size VP9. It's super light and compact, which takes only 1 CR123A battery (50,000 hours) that can produce up to 500 lumens with its C4 LED technology.
Great In door beam pattern – Streamlight's TIR Optic produces a concentrated beam with optimum peripheral illumination; optimized electronics provide regulated intensity.
Ambi Features – Activation switches are ambidextrous from both sides, the user can activate the light simply by pushing the button. There is no strobe feature or laser with the TLR7, which is fine for range use.
We highly recommend this product for its size, performance, and price.
Check out more Streamlight products here.
MSRP: $225
Best known price $142, at OpticsPlanet
or buy from Amazon
---
NEW Olight Odin Mini 1250 Lumens + Lockable Pressure Switch 
Olight BALDR MINI

– Best Compact Light With Green Laser
This is a upgrade from the Olight PL Mini 2 Valkyrie
Why this is the newest light you should try – For new gun owners, the Olight BALDR Mini should be the first weapon light + laser combo to try. It's sturdy, durable, and affordable.
600 Lumens (4225 Candela)
130 meters throw
Visible Green Laser
No Strobe
Magnetic USB Rechargeable
3.07 oz
QD lock mount + adjustable position mount
Unlike in the past, buying a compact style Green laser/high lumen weapon light can cost a fortune, and now the Olight BALDR Mini is here to serve your need.
What's special things people like about the BALDR Mini – The most unique feature of the BALDR Mini is its 600 lumens (4225 candela) reflector + a highly visible green laser that is capable of 130 meters of throw in a super-compact body profile.
The green laser pointer sits close to the top to minimize the offset distance from the bore for better accuracy and zero.
Lastly, the OLIGHT BALDR Mini features an adjustable position mount, which allows the shooter to slid the light on the pistol rail to make it more compact, and this feature is great for full-size and compact size VP9.
Final thoughts – As always, most Olight products including the BALDR Mini can be recharged via USB cable, so you can use the light as much as you like for training without buying batteries.
If you're interested in this light be sure to get the best deal from OlightUSA and copy and paste this 10% OFF code OLIGHTSTORE10 during checkout.
MSRP: $139
Best known price $92, at Olight USA
---
What To Look For
Avoid Poor Quality Lights
Poor quality lights includes:
Anything around $30 or even $100 made for airsoft
Low lumen under 200 – 500
Low candela ratings under 12000 that can't combat photonic barriers
Weak mounting system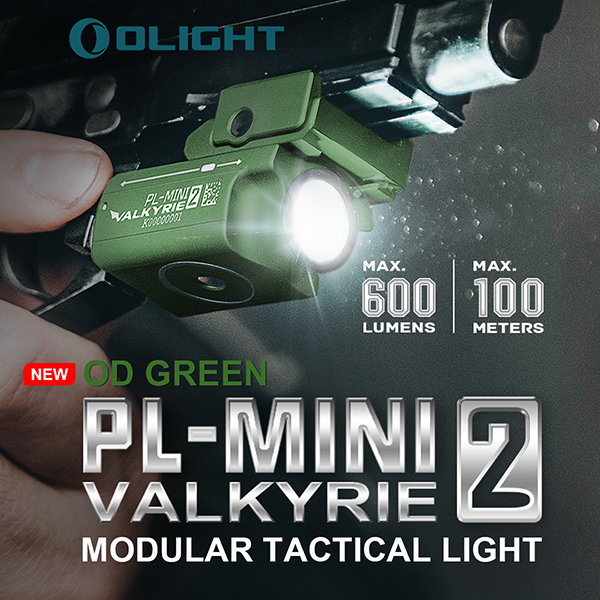 Use Code for 10% OFF: OLIGHTSTORE10
---
Why Do You Need A Weapon Light?
Why do you need a weapon light on your firearm? You need it for identify targets in low light situation and use the intense light beam to control the threat at a safe distance.
Even if home burglary happens during the day, there are still areas of your home that don't get enough light, so you need a light source to positively identify the target.
Please check out FBI 2019 crime report here
There are definitely pros and cons when using a pistol mounted light , and some are more obvious than others.
You don't have to mount a weapon light on the HK VP9, but if you're using the gun as your nightstand home defense pistol, it's highly recommended to add a light for identifying things in low light and use it as an non-lethal weapon to blind the threat.
---
Wrap Up
We hope you have enjoyed checking out this list of weapon lights to go on your VP9.
If you didn't find what you're looking for please check out our Ultimate handgun weapon light on our site.
More VP9 content – Best aftermarket VP9 night sights