In this review guide, we gonna take a look at the NEW Olight Odin mini tactical weapon light.
Olight has been making high quality lights for over 10 years, and has gained a tons of followings and likes. Because of the good quality and affordable price point, Olight has stepped up their game in the dedicated weapon light category, the Odin Mini just like the Full Size Odin is tough built & held up to stress test very well.
Upon the success of the full-size Olight Odin, the mini version is here to satisfy users who prefer compact weapon configurations, and Olight has answered the call to deliver this amazing product and compete against the Surefire M300C Scout.
We want to thank Olight for sending us this amazing light to review, and we will compare this light side by side with the full size Odin and Surefire M300C.
Does it live up to the standard? let's check it out below:
---
Olight Odin Mini Core Specs
The light is tested against the ANSI/NEMA FL1-2009 standard.
Max Lumen & Candela - 1250 lm & 14400 cd
Min Lumen & Candela - 200 lm & 2356 cd
Max Throw Distance - 240 meters (Min Lumen)
Min Throw Distance - 97 meters (Max Lumen)
Battery - 2040 mAh 18500 rechargeable
Mount - Scout Mounting Foot Print
Drop Proof - 1.5 meters
Waterproof Rating - IPX8
Length - 4.55 in
Bezel Diameter - 1/14 in
Weight - 6.2 oz
For anyone looking for a low profile powerful Scout light alternative to the Modlite or Surefire without spending more than $120, the Odin Mini is finally here and it's honestly better for the price you pay for.
---
What's Included In The Package
The light comes in a very nice carton blister packaging that feels very premium just like buying a iPhone. All included items are neatly packed inside the individual boxes and foams when you first open up the box.
Odin Mini (Battery Included) x 1
MCC3 Magnetic Charging Cable x 1
Magnetic Remote Switch(with Stand) x 1
Offset M-LOK Rail Mount x 1
H2.5 Allen Wrench x 1
Adjustable screw x 2
Self-locking band x 2
User Manual x 1
---
Core Features
Reduced Overall Length
The Odin Mini stretches just 4.55 inches without the attached pressure switch, which makes it the shortest high performing weapon light for long gun application.
When you take a look at the Surefire Scout Mini has the shortest body length of 4.1", and the Streamlight ProTac is about 5.4"
The Odin Mini has the same overall profile as the full-size Odin, it feels very compact when mounted on SBRs and other wicked modular handguard setups.
---
Lumen & Candela
The lumen & candela intensity out of Odin mini is very impressive for a light this size for outdoor & indoor use.
1250 lumens on the highest intensity - Full tail switch press or Pressure switch press
200 lumens on low intensity - Half tail switch press
14400 candela is about 27% more than the Surefire X300U, which provides plenty of candela for maintaining the the hot spotlight for CQB applications
It definitely beats the Surefire Scout out of the park as of now, while the Surefire Scout Pro the newest light stretches just 4.1" long, but still uses CR123A battery that can only outputs just 500 lumens & only 7600 candela.
In today's weapon light standard, the more lumen & candela is better for increased illumination distance, bright enough to identify objects in low light, and power candela output to punch through photonic barriers.
To learn more about photonic barriers please read here.
Until we put the MODLITE into the competition, For just under $150, I don't think there is any Scout light on the market today that can beat the performance of the Odin mini.
Battery Life
The Odin Mini uses a 18500 battery with 2040 mAh capacity with a max run time:
200 lumen setting - 5 Hrs
1250 lumen setting - 6+11 39+14 mins
The 18500 battery has a smaller diameter profile compared to the 21700 battery, and it's much shorter.
In addition, the light comes with USB magnetic charging cable. The user can charge it at home via any USB port or USB battery bank on the go.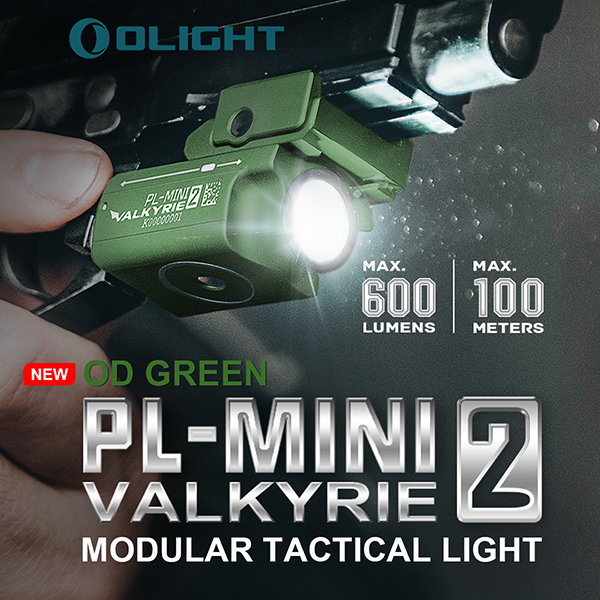 Use Code for 10% OFF: OLIGHTSTORE10
Beam Quality
The Odin Mini has a similar beam pattern to the full-size Odin. You get the hot neutral white center spot that has a throw distance of 200 - 240 meters on the highest lumen intensity with 14400 candela.
In pitch black outdoor environments, we are very happy to see that the light has a tight spotlight alike beam pattern that is beneficial for illuminating long-distance targets when mounted on a rifle or use as a CQB light.
The spill of the light beam isn't too sharp or soft.
Low Power Vibration Warning
The Odin series light features the low battery vibration notification for the user to recharge the light.
It's a nice to have feature, but not necessary. Our rule of thumb is to recharge the light as soon as the lumen intensity drops down to the level where it doesn't feel effective to the user.
Integrated Scout Light Mount (Includes Offset MLOK Mount)
The Odin Mini features the same Scout mount as the full size Odin to accept any Scout light mounting accessories available on the market (Keymod, MLOK & Picatinny)
The package comes with Olight's dedicated offset M-LOK scout light mount that allows the user to easily mount the light on any M-LOK mounting platform.
Since it's a compact size light, most users will try to tuck the light in as much as they can using offset Scout light mounts while mounting other laser devices on the hand guard, and we have a guide you can check out below:
Lockable Magnetic Pressure Switch Pad
The magnetic Push N Lock pressure switch can now be locked in place simply by pushing the anti-slip knurling ring in place without any tools.
Once the magnetic connector is locked in place, it feels rugged and it won't go anywhere unless you accidentally bumped the lockable ring cap into something.
An improvement Olight can add in the future is to make the lockable knurling ring a bit stiffer or add an extra latch to lock the connector in place.
When it comes to light activation, the pressure switch is very tactile and responsive. The pressure switch runs the light at 1250 lumens, where the tail cap switch can operate between two modes:
Half-press: 200 lumens
Full press: 1250 lumens
However, the pressure switch doesn't allow momentary on and off if the user press & release the pad too quickly. As Olight continues to improve their products, we would like to see this feature to be finally added.
Durability
The Olight Odin Mini comes with a durable non-scratch coating and can survive reasonable drops and bumps.
It's waterproofed to IPX8 rating, the highest standard in the industry.
---
Full-Size Odin VS Odin Mini VS Surefire Mini Scout
| PREVIEW | Product 1 | Product 2 |
| --- | --- | --- |
| PREVIEW | | |
| PRODUCT | OLIGHT Odin Mini | SUREFIRE M340C Scout |
| LUMEN | 1250 | 500 |
| CANDELA | 14400 | 7600 |
| LENGTH | 4.55" | 4.1" |
| WEIGHT (NO MOUNT) | 6.21 oz | 4.1 oz |
| BATTERY | 18500 | CR123A |
| WATER RESISTANCE | IPX8 | IPX7 |
| MOUNT | Scout | Scout |
| ACTIVATION SWITCH | Tail Cap/ Pressure Switch | Tail Cap/ Pressure Switch |
| BUY HERE | SEE BEST DEAL | SEE BEST DEAL |
---
Final Verdict
The Olight has proven themselves in the tactical flashlight industry for making durable products for variety of outdoor tasks. Millions of units are sold and people love them for what they pay for without breaking the bank.
If you want a powerful mini scout light for non full time professional use, the Olight Odin Mini is here for you.
Check out other high-end SureFire alternative products here
Pros
The Olight Odin Mini is absolutely amazing! For the price, you can get three for the price of 1 Surefire M300 or a MODLITE.
It definitely beats the Surefire Mini Scout as far as illumination performance, and it looks and feel amazing on modern firearms.
Better lumen & candela output
Hot spot punches far without dimming down
Neutral beam tint for accurate color rendition under low light
Rechargeable battery to save more money
Uses the same scout mount as Surefire
Compact Design
Better price
The light is dedicated for weapon use. The integrated Scout mount makes this light very appealing to people who are looking for Surefire Mini Scout alternatives.
Cons
The only thing we hope Olight to improve is the ability to activate the light with a momentary switch so the user doesn't have to hold & release the button.
End cap not compatible with other laser devices
Tail cap switch not user friendly for angled thumb press
Scout mounting structure isn't beefy enough to handle severe abuse
Where To Buy
You can get it by visit OlightStore.com and use the exclusive 10% OFF discount code: OLIGHTSTORE10